British Army chief mocked on Twitter for 'laughable' video on military scandals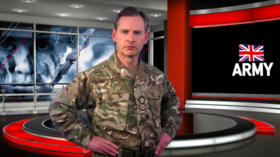 A stern video posted by the British Army chief has created quite a stir online as many on Twitter mocked the military man's strange delivery in a production that looked like a BBC parody.
Chief of the General Staff, General Sir Mark Carleton-Smith, stands with his hands on his hips in what looks like a computer generated British Army television studio as he delivers a stern talking-to to members of the British Army.
Disabling comments on this YouTube channel was 200% the right decision

— Francis Xavier Sowerby Thomas (@FrankyBabes) April 6, 2019
Is this a parody?

— bitsy mcfitzy (@BMcfitzy) April 6, 2019
The three minute video was filmed in response to a series of embarrassing scandals that the military has been embroiled in, which Carleton-Smith said are "downright unacceptable."
Six British Army troops, including a sergeant, were arrested for an alleged attack on a sleeping teenage female soldier last week, in an incident Defence Secretary Gavin Williamson said "horrified" him.
Members of the Parachute Regiment in Kabul, Afghanistan are also under investigation after video circulated showing them using a poster of Labour leader Jeremy Corbyn as paintball target practice.
Also on rt.com
Corbyn in the crosshairs: British soldiers filmed firing at photo of Labour leader, army to probe
Carleton-Smith said that a police investigation prevented him from speaking further on the assault allegation, but said, "Where serious allegations are proven against members of the Army, including allegations of a violent or sexual nature, it demonstrates indiscipline that is wildly at odds with the values and standards that represent the fabric of not just our army but the nation's army, the British Army."
"The British soldier is known for many things: stoicism, a sense of honor and duty, courage, a sense of humour and an honest sense of decency. It's what we expect of each other and it's no less than the country expects and deserves of its army," he said, adding, "As the chief of the best army in the world I won't stand for anything less."
The video attracted a lot of mockery on social media, as many joked about its myriad peculiarities, including how similar the background is to a bad BBC News or sci-fi set. Many Twitter users commended the sentiment behind the army chief's address, but poked fun at the production quality, as well as Carleton-Smith's strange performance.
Like this story? Share it with a friend!
You can share this story on social media: