Chanel slammed for keeping dogs in 'tiny cages' at London boutique (PHOTOS)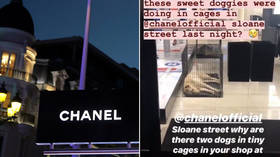 Luxury brand Chanel has come under fire from their posh clientele for keeping dogs in small cages at one of its London stores. The French brand claimed the dogs were there for "security reasons."
British reality TV personality Tabitha Willett highlighted the apparent animal cruelty over the weekend via her Instagram story, and claimed the dogs were left under bright fluorescent lights, and without any visible water.
"Does anyone know what these sweet doggies were doing in cages in @ChanelOfficial Sloane Street last night?," wrote the 'Made In Chelsea' star.
"Chanel why are there two dogs in tiny cages in your shop at 11pm?"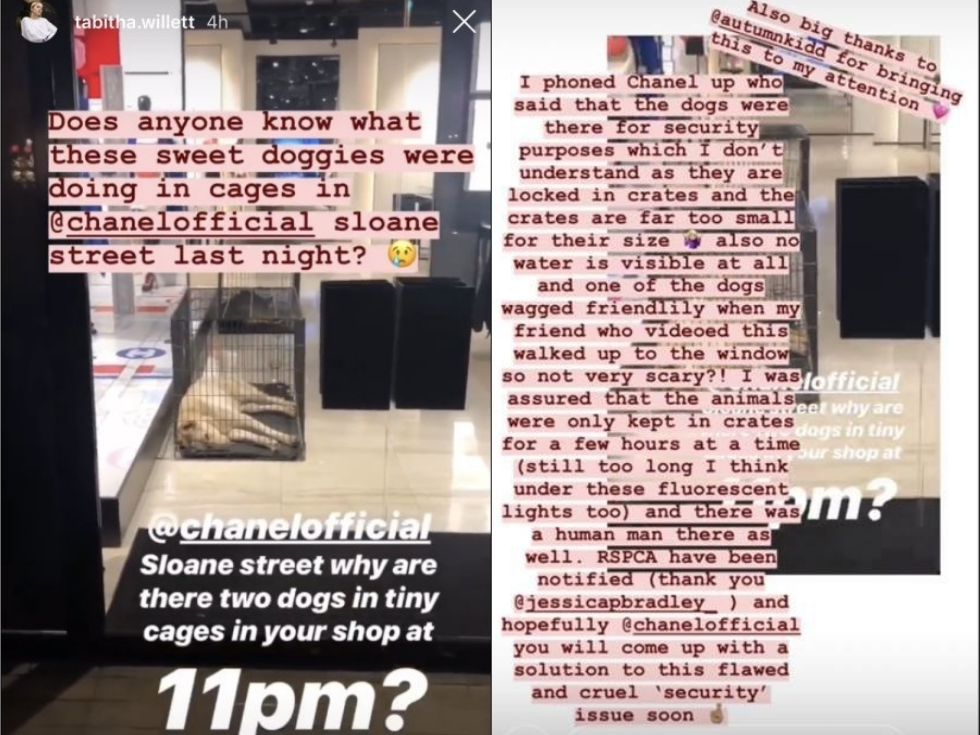 READ MORE: Fashion icon Karl Lagerfeld has died – reports
Willett revealed she later phoned the store who explained that the dogs are there for security reasons and claimed they are only kept in the crates for a few hours at a time. She added that the RSPCA had been notified.
In a statement, a spokesperson for Chanel said the dogs were enlisted following "two recent serious incidents in the Sloane Street boutique", forcing the store to "reinforce the security measures by seeking the services of a dog handler."
"We understand the concern of those who care about animal welfare and we share it," the spokesperson said.
"We want to assure them that these two dogs, which are specially trained for this purpose, are released from their crates on a regular-basis to stretch and exercise and there is a regular supply of food and water throughout the duration of their time in the boutique."
You can share this story on social media: