Petrov & Boshirov mocked on Twitter, but Salisbury's self-esteem the biggest victim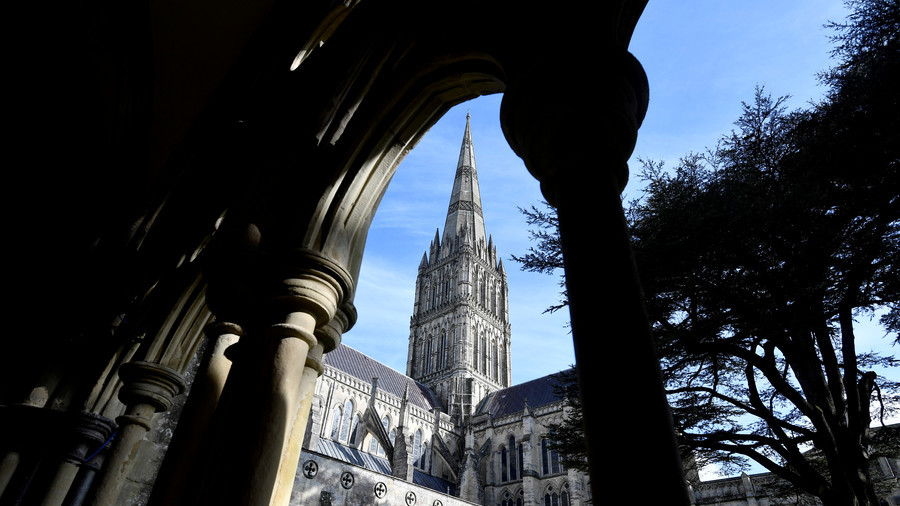 RT's interview with the two Russian men accused of being behind the Skripal poisoning has revealed a Twitter widely cynical about both their innocence, and Salisbury's claims to be an international tourist hotspot.
Whatever your views on the Skripal poisoning and the guilt or innocence of suspects Alexander Petrov and Ruslan Boshirov, few could argue it has been a bad day for the self-esteem of Salisbury and its much-admired cathedral. The majority on social media clearly think the town is awful and certainly not worth a 3,000-mile round trip.
But with the optimism of knowing God is on its side, and the 'no publicity is bad publicity' mantra ringing in its ears, Salisbury Cathedral itself is not wasting its new-found notoriety. It sent out a promotional tweet detailing the mighty 123-meter erection which apparently attracted Petrov and Boshirov in the first place.
Salisbury Cathedral's spire is the tallest in Britain, reaching the impressive height of 123m! It is no wonder that it can be seen for miles around and plays such a significant part of the surrounding landscape.Photograph by Ash Mills pic.twitter.com/NbfcSwGjVg

— Salisbury Cathedral (@SalisburyCath) September 13, 2018
Replies underneath the official tweet inquire as to whether the cathedral cafe serves vodka, or whether there is a Russian language audio guide.
Well after the revelations, people soon began to notice that Petrov and Boshirov weren't the first celebrities to take an interest in Salisbury after all. One of the world's biggest rappers, Jay Z, went there once as well! Where's your cynicism now internet!? Seriously, is Jay Z now a suspect in this Novichok thing?
It's been a common yet much-overlooked theme among those who refuse to believe the pleas of innocence coming from Moscow; surely only highly-trained agents could successfully navigate Britain's antiquated railway system two days in a row.
Petrov and Boshirov said they headed out to Salisbury in order to visit Stonehenge and Old Sarum, which is another ancient tourist site nearby, but were prevented from going by recent snowfall. This was enough material for endless online mirth about Russians and snow (acceptable racism?)
I love the fact that the Russian killers got to Salisbury but didn't go on to Stonehenge because there was a sprinkling of snow and it was cold. They must have still been wearing their tropical clothing from sunny Russia... #Skripal

— Dom Joly (@domjoly) September 13, 2018
I love the way these big, strong 'fitness experts' from Russia weren't able to continue with their visit to Salisbury because there was some slushy snow on the ground!

— Dr Russ King (@RussWrites) September 13, 2018
The following tweets aren't as funny in the conventional sense, but they do prove that the weather on the day had closed Old Sarum, and there were warnings about road conditions. LOL!
If you are driving today in #Wiltshire, be aware of slush and ice, slow down and drive to the conditions. If you're heading out on foot, wear appropriate footwear and take care. Some services are still affected by the weather. Updates: https://t.co/Uvr5GIBvn8

— Wiltshire Council (@wiltscouncil) March 4, 2018
Old Sarum is still closed today as we clear the last drifts from the Inner Bailey.

— Old Sarum (@EHOldSarum) March 4, 2018
This lady makes a very interesting point.
god tho, imagine if you *were* just an innocent tourist, excited about seeing Stonehenge and the tallest church spire in the UK, and you end up getting accused of a complex act of international espionage and black ops because nobody believed you'd go to Salisbury by choice.

— Another Angry Woman (@stavvers) September 13, 2018
One resource we can always rely upon to give us a good, honest review may support Boshirov's story.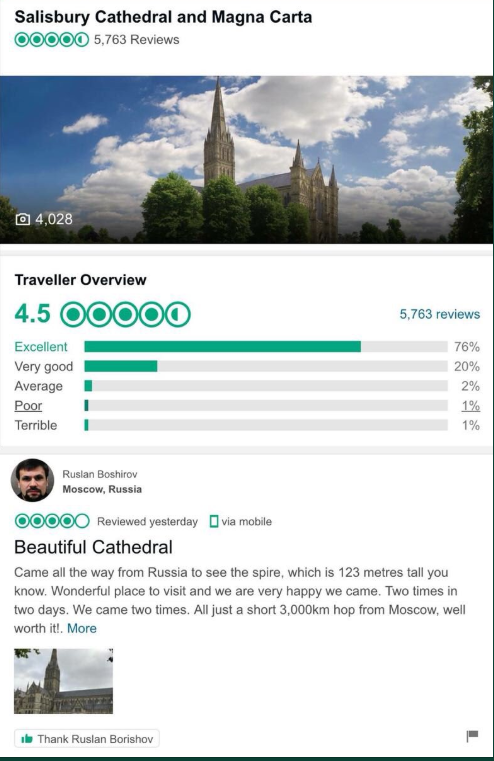 And finally, Bassman Bob looks on the bright side.
Instead of complaining about the weather in Salisbury these Russian Tourists should count themselves lucky as if they had come the next day the whole city was on lock down.....

— Bassman Bob (@spottie999) September 13, 2018
Like this story? Share it with a friend!