May, Hunt silent as UK's best arms customer kills dozens of children in Yemen bus attack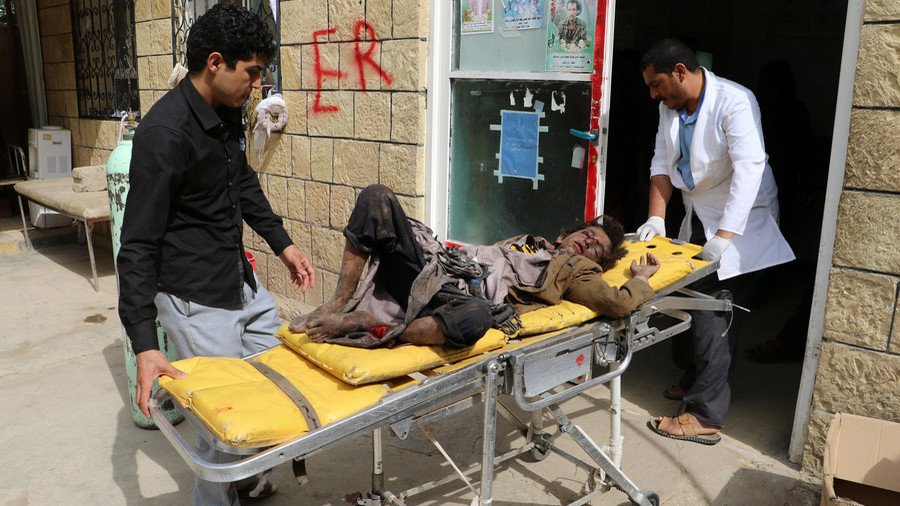 After a Saudi-led attack in Yemen killed and injured dozens of children, the public is again questioning London's arms sales to Riyadh. Officials have kept silent, helped by the MSM which fails to question the UK's involvement.
According to the International Committee of the Red Cross, the body count from Thursday's attack sits at 51, including 40 children. Seventy-nine others were also injured in the attack, 56 of whom were children. It is understood that the bus was bringing children home from a picnic when it was attacked.
According to figures compiled by the Campaign Against Arms Trade, the United Kingdom has supplied the Saudi government with approximately £5 billion (US$6.38 billion) worth of arms – weapons, fighter jets, and even air strike training – since the war in Yemen began in March 2015. The UK government sells more arms to Saudi Arabia than any other country in the world.
Spokesman for the Campaign Against Arms Trade Andrew Smith told RT that "UK fighter jets and bombs have played a central role in the ongoing destruction," and called for a full investigation "into if UK arms have been used in this appalling bombing."
Foreign Office Minister Alistair Burt took to Twitter to say he was "deeply concerned by reports of yesterday's attack in Sa'ada, Yemen resulting in tragic deaths of so many children."
UK Prime Minister Theresa May, Foreign Secretary Jeremy Hunt, and the Foreign Office have issued no statements on the atrocities, and ignored RT when approached for comment. The prime minister's office refused to accept a list of questions from an RT journalist, or provide an email address for other future queries. Neither the PM, Foreign Secretary, or Foreign Office have provided comment to the media on the Yemen bus attack.
Shadow Foreign Secretary Emily Thornberry condemned the attacks, and lashed out at the Tory government for "arming and advising a Saudi air force that cannot tell or does not see the difference between a legitimate military target and a bus full of children."
"It is five months to the day since the Crown Prince of Saudi Arabia left London with the fawning praise of Theresa May ringing in his ears, and a renewed commitment from her government to supply the arms to support his disastrous military intervention in Yemen," Thornberry said on Thursday.
"In those five months, while all sides in this conflict have continued to behave with a wilful disregard for human life, it is the Saudi-led coalition that has inflicted the bulk of civilian casualties… how many more children in Yemen need to be killed by Saudi air strikes or die from malnutrition, cholera or other diseases before Theresa May will stop supporting this catastrophic, murderous war, and start taking action to end it?"
Mainstream media in the United Kingdom have broadly failed to take UK PM Theresa May and Foreign Secretary Jeremy Hunt to task over the government's hand in the brutal slaying of the 51 Yemenis killed in the attack. Those on social media, however, were quick to question why such a horrific bombing failed to make more headlines across the mainstream press.

Media pundit George Galloway got straight to the point. "Why isn't the murder of dozens of children in #Yemen by #Saudi war-planes dropping UK and US bombs creating waves in the media today?"
Other Twitter users highlighted the US-UK government's complicity in the Yemeni war as a potential reason for the lack of coverage from mainstream outlets: "the UK Govt is providing Saudi Arabia with training, intelligence, logistical support and weapons in their war in Yemen yet the BBC decided not to mention any of this in their report of yesterday's massacre," one user said, with another adding:"this is a real, verified #Yemen massacre by a US UK ally, and using US UK arms, it's receiving almost no US UK front page coverage at all."
Others who were outraged by the tragic slaughter of the Yemeni bus children, many of whom were under 10 years old, attacked the UK's state-funded broadcaster, the BBC, for omitting the UK government's complicity in their coverage.

Some jumped on a viral campaign calling out the BBC for alleged media bias and a lack of impartiality with the hashtag #BBCswitchoff. The campaign, organized to highlight the publicly funded broadcaster's perceived bias against Labour leader Jeremy Corbyn, began at 6pm to coincide with the TV station's news program. The Twittersphere soon jumped on board to spread their frustration with the lack of coverage from the UK's state broadcaster.
Think your friends would be interested? Share this story!
You can share this story on social media: