'This is shameful': Tory austerity pushes 1.5 million below breadline, 3.7 million to food banks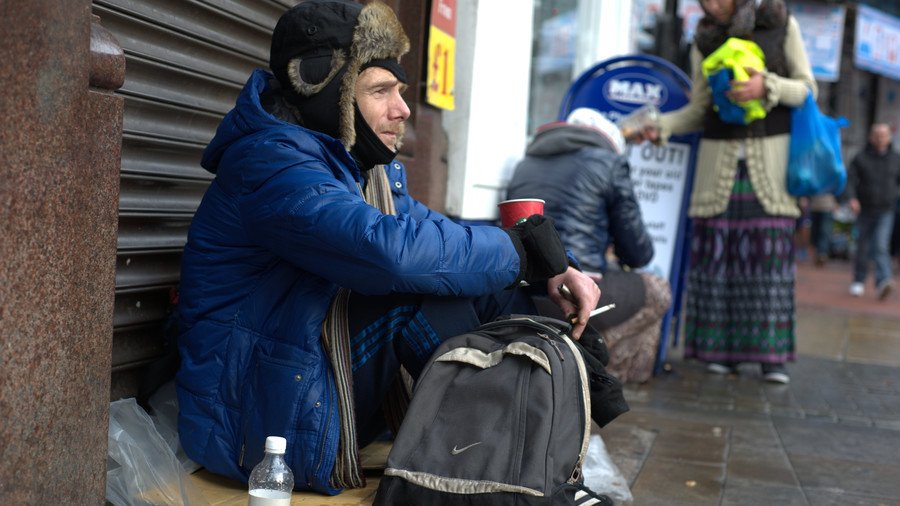 Tory austerity measures are leading to "destitution by design" in the UK, campaigners warn. It comes amid statistics suggesting 1.5 million people plunged below the breadline in 2017, while 3.7 million resorted to food banks.
According to the Joseph Rowntree Foundation, 1.5 million people, including 365,000 children, were pushed into destitution last year alone. It was largely due to debt recovery at the hands of authorities and delays or sanctions on benefit payments.
Destitution is defined as when a person has been forced to go without essentials such as shelter, food, heating, lighting, clothing and footwear, or toiletries in the last month, or if an adult's income is below £70 week.
Such destitution used to mainly hit industrial areas and cities in the north of England, but this report found more affluent cities, including Oxford, and Norwich and Ealing, west London, have been hit by extreme poverty.
It comes as a poll commissioned by the Independent on Thursday revealed nearly 4 million people in the UK were forced to use food banks as the Tory government's new Universal Credit welfare system is rolled out. A similar amount of people also skipped meals and borrowed money as austerity measures plunged them into "shocking" levels of deprivation.
The Tories are responsible for implementing their flagship welfare program, which merges six different benefits into a single payment. But there have been calls for the Universal Credit scheme to be overhauled or scrapped altogether amid evidence that delays in benefit payments are dragging more people into poverty.
Campbell Robb, chief executive of JRF, said: "Many of us rely on public services such as social security when hit with unexpected circumstances like job loss, relationship breakdown or ill health.
"Yet actions by government, local authorities and utility companies are leading to 'destitution by design': forcing people into a corner when they are penniless and have nowhere to turn. This is shameful," he said, according to the Independent.

The research, which surveyed 1,050 adults, found 7 percent, or 3.7 million, had resorted to food banks to get a meal.
"Social security should be an anchor holding people steady against powerful currents such as rising costs, insecure housing and jobs, and low pay, but people are instead becoming destitute with no clear way out."
If you like this story, share it with a friend!
You can share this story on social media: