Ex-member of neo-Nazi group was Leeds election candidate, claims anti-racism organization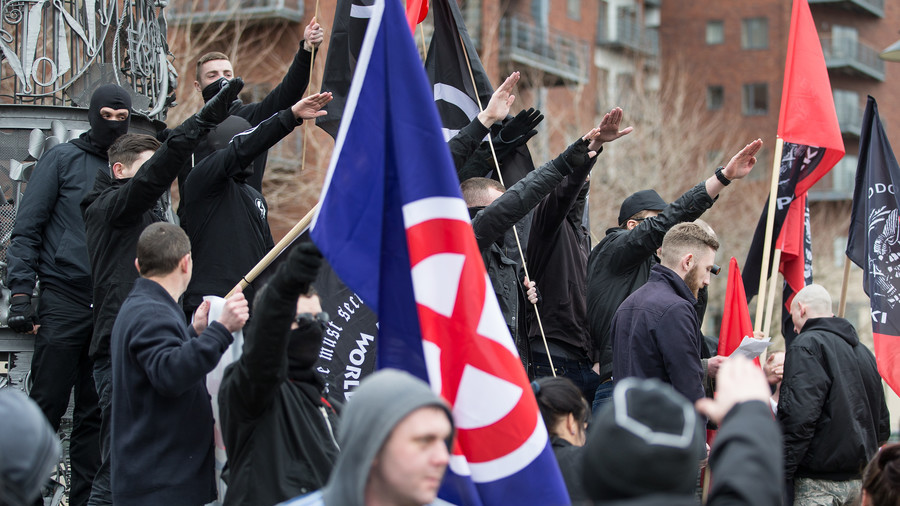 An ex-member of the proscribed neo-nazi National Action (NA) group was fielded as a local election candidate in Leeds by the anti-Islam For Britain Movement, one of the UK's leading anti-racism organizations has claimed.
Anti-Muslim activist Anne Marie Waters' party For Britain chose Sam Melia as a candidate for her party in May's local elections for the Farnley and Wortley ward.
Hope Not Hate (HNH) revealed on Wednesday that Melia had once been part of NA, the first far-right organization to banned in the UK since World War II. Former Home Secretary Amber Rudd proscribed it in December 2016 amid concerns it was involved in terrorist activities.
Pictures, published on HNH's website, show Melia attending an NA street march in Darlington, County Durham, just a month before the group was proscribed. He was captured alongside anti-Semite Wayne Bell, who has been jailed for conspiracy to commit violent disorder and who praised the murder of MP Jo Cox by white supremacist Thomas Mair two years ago.
Melia also took part in far-right youth group Generation Identity's rally at Hyde Park, London, in March.
Although Waters rejects notions that her party is on the far-right, For Britain has seen a surge in former members from the radically nationalist British National Party (BNP), itself a group which formed out of the neo-fascist National Front.
Former frontman of The Smiths, Morrissey, has backed Waters' campaigning for the Lewisham East by-election on June 14. He previously described Waters as a "a humane version of Thatcher".
At a meeting of For Britain in May in Loughton, Essex, Waters told attendees: "[…] if we don't bring down the EU now, your children and grandchildren will be living in a war-torn society. Which they will, they will […] the EU and it's compliant national governments is behind this mass immigration from the Middle East and from Africa, who are bringing tribal warfare, bringing machete violence, on to the streets of European cities. The EU is behind that".
Following this article's publication, Waters tweeted a statement saying For Britain took "swift action" to expel the member in question.
"Our party unequivocally rejects anti-Semitism and race hatred in all forms, and we were deeply saddened to see a supporter of National Action chose to mislead us in this way," Waters wrote.
She added the erroneous labeling of her party as far-right by the media is what attracts people with "such toxic views."
If you like this story, share it with a friend!
You can share this story on social media: