Shock as up to 220,000 disabled people will have to wait until end of summer for benefit payments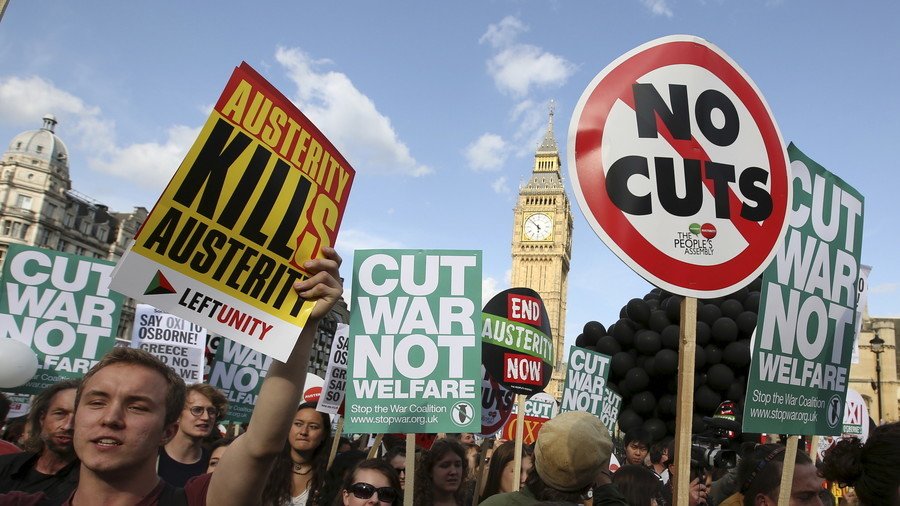 Esther McVey, the Tory minister for work and pensions, has announced that up to 220,000 disabled people will be denied immediate access to additional benefits, despite winning the right to them in the High Court.
McVey, a former morning television presenter, told the House of Commons that mentally ill people would have to make it through the school holiday period without the extra Personal Independence Payments (PIP), to which they are entitled. She said that "the first of those payments will start at the end of the summer."
Currently, staff at the Department for Work and Pensions (DWP) are assessing all 1.6 million PIP claims, with up to 220,000 people set to receive extra money, backdated to November 2016.
The claimants are set to get a higher rate of PIP after the High Court said rules for assessing them were "blatantly discriminatory," reports the Mirror.
McVey, who was re-elected as a Tory MP at the 2017 general election, made the admission after a question by Labour MP Luciana Berger, who said: "Six months later there's still no confirmed timetable for when that High Court judgement will be implemented in full, and back payments made to those people affected."
McVey replied: "We have been making new guidance, consulting with stakeholders on... how to work through that. The first payments will begin at the end of the summer.
"Having to assess all those number of people will take and has taken a bit of time. But it has been thorough, it's been correct, and the first of those payments will start at the end of the summer."
McVey, MP for Tatton, the former constituency of ex-Tory chancellor George Osborne, is an MP with significant support among the Conservative grassroots, with a 55-percent positive approval rating, according to Conservative Home. Though the MP remains somewhat unpopular among many welfare campaigners for her stance on the "bedroom tax" and food banks, many of whom expressed their shock and anger at the benefits delay.
Toxic Tory Esther McVey dismisses Labour's concerns about 220,000 disabled people who will have to wait all summer for their Personal Independence Payments (PIP) as "screams that are spreading fear" And to think this vile woman was previously connected to The Samaritans... pic.twitter.com/yGAZzk9bAq

— Socialist Voice (@SocialistVoice) June 4, 2018
Why the hell is Esther McVey the Secretary of State @DWP? She is the most vile, uncaring, discompassionate, partisan, awful individual to be given this important role, she displays all the arrogance which is the hallmark of the May govt, disabled ppl deserve better #ToriesOut

— Loz Argyle (@ArgyleLoz) June 4, 2018
During a PIP debate in the Commons yesterday, Esther McVey accused opposition MPs of spreading 'unnecessary fear'. To hear this from a Minister that played a huge part in implementing the policies that have been linked to at least 120,000 deaths is totally mind boggling.

— Rachael Swindon (@Rachael_Swindon) June 5, 2018
My god Esther McVey is coming out with unadulterated BS ... completely unfit for purpose #pipappeals

— BeverleyJane#RJCOB #NHSlove #PCPEU (@beverleyhb57) June 4, 2018
The "bedroom tax," which increases the rent that people have to pay if they have "extra" rooms, was launched by the Tory-led coalition in April 2013 and was heavily backed by McVey. She claimed that people who remained in their homes would be "more than happy" despite critics pointing out that there was not enough housing stock for people to 'downsize.'
On foodbanks, McVey has welcomed the surge in usage, insisting that where they have spawned, it was a sign that 'the community had come together to support one another, and that must be a positive move.'
It comes after the DWP last week withdrew from contesting a case that involved two chronically ill people who wanted higher PIP. One of the claimants is acutely diabetic and has to be watched at night to avoid sliding into a deadly coma.
The pair's lawyers had argued that the need for an observer had counted as "therapy," which would, therefore, entitle the claimant to higher PIP.
Like this story? Share it with a friend!
You can share this story on social media: