What special relationship? 'Delusional' No.10 trolled as Trump starts trade war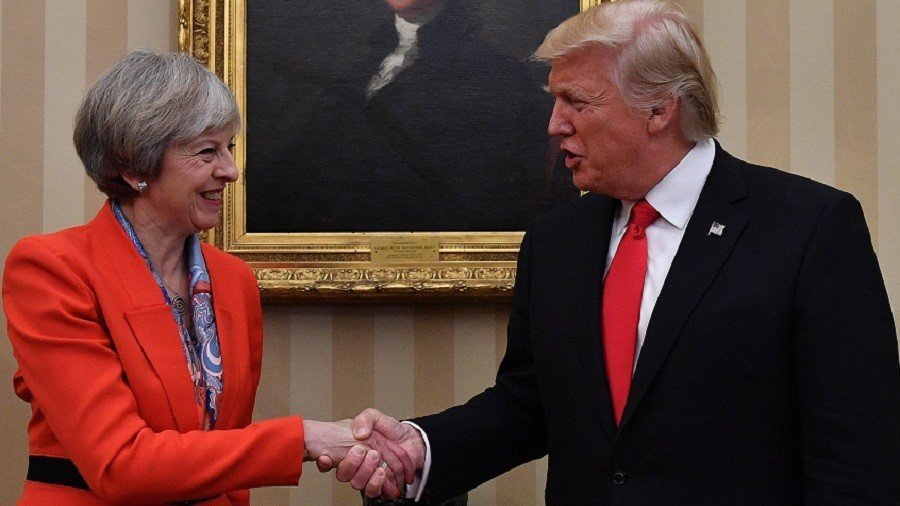 The Tory government has talked up the idea of a post-Brexit trade deal with the US, but Donald Trump's decision to impose tariffs on steel and aluminum on its allies has led to mockery of the so-called 'special relationship.'
Amid fears the tariffs will deal a huge blow to the struggling UK steel industry, some political figures and prominent UK journalists have flocked to Twitter to condemn the Brexiteers for putting the UK at risk of being "eaten alive" by trade tariffs once it leaves the EU.
Many also hit out at No.10 over its "delusional" claim the UK enjoyed a "special relationship" with the US that would see Britain benefit from Trump's 'America First' policy.
Others criticized the UK for courting the controversial Republican leader while all it got in return is tariffs.
Shadow International Trade Secretary Berry Gardiner said the UK should not be "cowed" by the US decision to impose the tariffs.
He told the 'Today' program: "Theresa May has really not managed to persuade Mr Trump at all to abandon the plans that he's had, despite the fact we've now had two months where they have been on hold. All this special relationship – the idea that we are going to secure a special deal once we've left the EU with America – it is a nonsense."
He warned Trump's latest move doesn't bode well for a post-Brexit UK trying to hammer out trade deals with countries outside the EU.
Gardiner said the UK would be "infinitely more vulnerable" to trade wars with non-EU countries "because we will not have the weight of a 500 million-strong consumer market behind us."
International Trade Secretary Liam Fox, who last year went to Washington to pave the way for what Trump had said would be a "big" trade deal with the UK, branded the president's tariffs "patently absurd."
"We absolutely do not rule out counter measures. And we do not rule out taking a dispute to the World Trade Organisation at Geneva. Obviously, we still hope the United States will think again about this. But, it would be a great pity if we ended up in a tit-for-tat trade dispute with our closest allies."
Like this story? Share it with a friend!
You can share this story on social media: