'Poster boy' of neo-Nazi terrorist group jailed over racist & anti-Semitic social media posts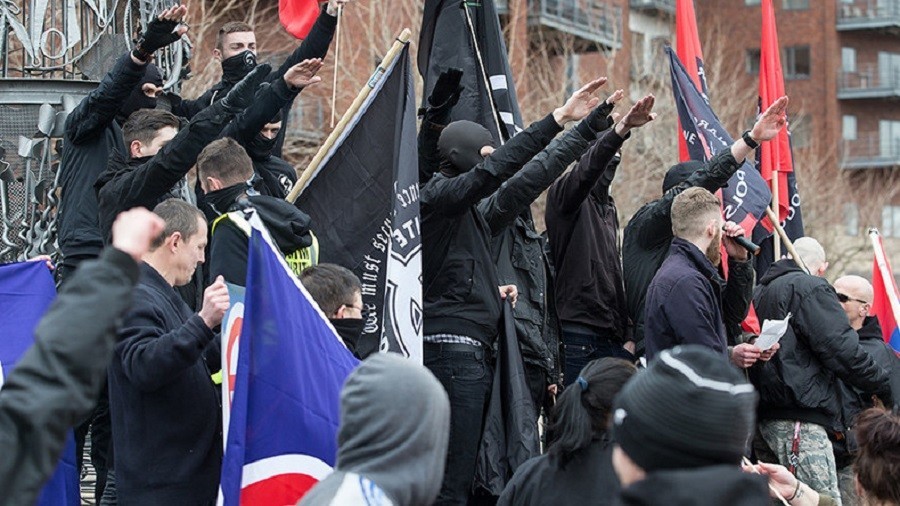 A man known as the 'poster boy' of banned neo-Nazi group 'National Action' has been jailed for posting racist and anti-Semitic material online, including an image of a man with a Star of David on his forehead being hanged.
Wayne Bell, from Castleford, West Yorkshire, is said to have made hundreds of posts on a Russian social media site and Twitter, including describing Jews as "vile" and "destructive," the Yorkshire Evening Post reports.
The 37-year-old was reportedly a leading member of the far-right group National Action, featuring in two recruitment campaign posters. National Action was banned in 2016, becoming the first far-right organization to be classed as a banned terrorist group by the Home Office.
A Crown Prosecution Service (CPS) spokesman said that Bell posted in August 2016: "The only way," below a picture of a police officer's foot positioned above the head of an unarmed black man, lying on the floor.
The spokesman said police found 13 videos on Bell's mobile phone, one involving an unseen man – believed to be Bell – orchestrating others who were spraying anti-Semitic graffiti, such as swastikas, and included references to the Holocaust, the Yorkshire Evening Post reports.
Sentencing him to four years and three months in jail, Mrs. Justice Cheema-Grubb said: "It is simply an act of birth that you are white and another man is black but you regard yourself as superior.
"You are not someone who is content to seethe in private at the fact that people of other races are free and can thrive in peace," she continued.
The judge told the courtroom that the sentence handed down to Bell would be added to the 30-month prison term he is already serving for a violent confrontation with left-wing activists in Liverpool in 2016.
Sue Hemming, the head of the Counter-Terrorism Division in the CPS, said: "Wayne Bell is a committed racist who posted messages on social media intending to stir up racial hatred against Jewish and black people.
"He was also behind graffiti that promoted his Neo-Nazi views and his deep rooted-hatred of all non-Aryan races."
Like this story? Share it with a friend!