Ultra-nationalist Turkish group Grey Wolves present at pro-Erdogan London rally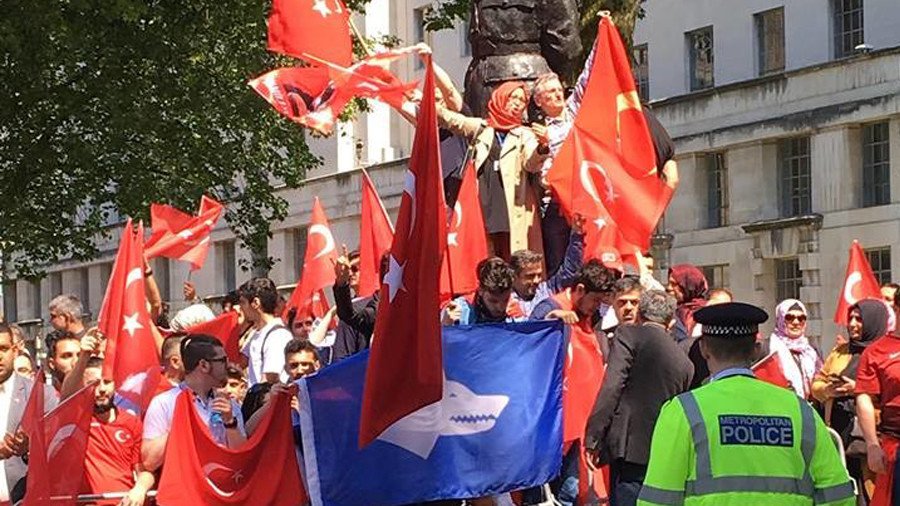 A Turkish far-right banner was spotted amongst the crowds who turned out in support of Turkish President Erdogan's visit to Downing Street on Tuesday. But who are the group behind it?
Officially known in Turkish as Ülkü Ocakları, or İdealist Hearts, the Grey Wolves are an ultranationalist youth organization and unofficial paramilitary wing of the far-right Turkish Nationalist Movement Party (MHP).
Their ideology is based on the unification of the Turkish people into a single nation stretching from the Balkans to Central Asia and is inspired by the history of the Ottoman Empire that had occupied many states in Asia, Europe, and Africa.
Their flag, a grey wolf on a blue background, was seen alongside a plethora of Turkish flags waved by supporters of President Recep Tayyip Erdogan, and against several hundred anti-Erdogan protesters rallying against the treatment of minorities and the press in Turkey.
Erdogan supporters were also heard singing Islamist songs and seen giving the salute of the Grey Wolves.
While the MHP is a separate party to Erdogan's AKP, the party has backed Erdogan on issues such as his restarting of hostilities against Kurdish separatists in Turkey after the breakdown in of a ceasefire in 2015, and approved Erdogan's amendments to the Turkish constitution in 2017's referendum.
Ahead of this year's general election, the MHP have formed an electoral pact with the AKP, and Erdogan, along with fellow AKP lawmakers, has been spotted giving the Grey Wolves salute at recent political rallies.
Violent past and present
Grey Wolf violence within Turkey has seen its members attack and murder left-wing activists, trade unionists, as well as Kurdish activists, since their forming in the late 1960s.
A Grey Wolves member was behind the assassination attempt on Pope John Paul II in 1981, though no direct link was made to the group by Italian prosecutors.
More recently, members of the group fought with Azerbaijan against Armenia during the Nagorno-Karabakh War of 1992, as well as with Chechen militants between 1994 and 1999.
READ MORE: Make Turkey great again: Erdogan trumpets more Syria ops & '100% local arms' in bold manifesto
In early 2018, Grey Wolves militias were also spotted fighting in northern Syria, with its members pictured with Grey Wolf epaulets during recent fighting in and around the city of Afrin.
Apart from paramilitary activities, the group has also faced allegations of trafficking heroin through its networks dotted throughout the Turkish diaspora in Western Europe.
A cultural institution?
Accusations of violence and criminality aside, the group primarily portrays itself as a cultural and educational organization, which is expressed in its full official name: Ülkü Ocakları Eğitim ve Kültür Vakfı (Idealist Clubs Educational and Cultural Foundation).
Outside of Turkey, groups affiliated with the Grey Wolves have sprung up in order to foster sympathy and support of young ethnic Turks living in Europe.
READ MORE: Hundreds of pro-Afrin supporters protest against UK support of Turkey (VIDEO)
In Germany, which has between 2.5 and 4 million ethnic or partially ethnic Turks, Der Spiegel estimated Grey Wolves membership at around 10,000 as of 2014. German authorities consider the group one of the largest far-right organizations in the country.
Pro-Grey Wolves clubs have also been recorded in Belgium, the Netherlands, and Sweden.
Erdoğan supporters at Downing Street do the Grey Wolves hand gesture associated with the fascist MHP-linked paramilitary group. Terrorists on the street of London being welcomed by Theresa May. Speechless pic.twitter.com/LEc4fTz5CL

— Kurdistan Solidarity Campaign (@KurdsCampaign) May 15, 2018
In the UK, a cultural group in the London borough of Hackney is seemingly one such affiliated group. Londra Turk Islam Cemiyeti, or the London Turk Islam Society, features on the Facebook page of Londra Ülkü Ocakları.
Pictures on the page feature the building, logos of the Grey Wolves, as well as pictures of members inside posing with Grey Wolves salutes. Pictures on the profiles of people who have visited the center also show a regular use of Grey Wolves iconography and of them using the salute.
While the group has seemingly remained under the radar in UK, their growing presence at counter-protests against those who protest Turkey's growing human rights abuses may see more violent clashes in the future.
Like this story? Share it with a friend!
You can share this story on social media: