Scottish Parliament rejects May's Brexit bill in symbolic, but significant act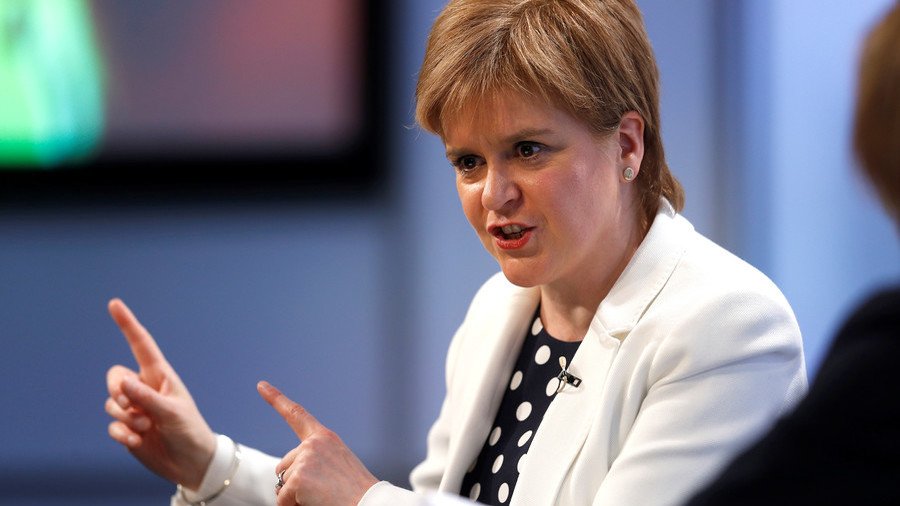 The Scottish Parliament has decisively voted against British Prime Minister Theresa May's EU withdrawal legislation, putting the UK on course for a serious constitutional crisis which could further delay Brexit.
Scottish lawmakers voted 93-30 against May's EU withdrawal bill. The vote is not legally binding, but it puts May in a tricky situation. She can either choose to disregard the vote and assert London's power over the Edinburgh government, or she can make further concessions to Scotland.
If May chooses to disregard the Scottish vote, it could fuel First Minister Nicola Sturgeon's calls for a second referendum on Scottish independence and likely strengthen her argument that Scotland should be independent.
Bruce Crawford, the head of the Parliament's Finance and Constitution Committee, said the vote was a "historic and significant" moment for Scotland and that he hoped the government in London would "respect the views" of the assembly.
Edinburgh and London have disagreed for months over how to manage Brexit, with both governments agreeing that post-Brexit policies should be the same across the UK, but disputing the details of those policies on issues like genetically modified crops, fishing quotas and farm subsidies.
While Sturgeon believes that Scotland should be allowed to block changes it disagrees with, London has rejected her stance. But with the Brexit bill heading towards its final vote in the House of Commons, May needs to secure a deal with Edinburgh fast.
On Monday, Sturgeon warned London that it was "three minutes to midnight" for May. "They [UK government] have a decision to make as to whether they are going to ignore the views of the Scottish Parliament or listen to those views and try very hard to get a deal and to close the gap that remains between us," she said.
In March, Scotland passed its own version of Brexit legislation by 95-32 votes, in an effort to ensure that when the UK leaves the EU, Scotland retains control of areas of policy which are currently under Edinburgh's remit.

"The danger if I am being less optimistic, or pessimistic, is that the whole process crashes before [a deal] can emerge because time is running out and the clock is ticking," Sturgeon said on Monday. "There is a real risk of a no deal Brexit and that would be pretty catastrophic," she added.
You can share this story on social media: