How The Sun made up 'scary Russian ultras' captions & deceived Serbian photographer (PHOTOS)
UK tabloids have been working hard to scare football fans from going to the World Cup, because every Russian is a brutal ultra out for blood. Now The Sun has hit a new low, blatantly taking a photographer's work out of context.
A headline in The Sun on Saturday thunders: "ULTRA VIOLENCE" in capital letters. The article itself is mostly a collection of photos, which it says "reveal life inside Moscow's gritty underworld, where hardcore football fans and bare knuckle boxers rule the streets." Some incredibly insightful captions cooked up by the tabloid are attached.
READ MORE: Don't let the Russophobes make hooliganism a geopolitical football
Unluckily for The Sun, the person who took the photos decided not to stay silent and shared his disappointment with RT. He says the photos have been "clearly taken out of context."
The pictures were taken by Serbian-born photographer Vladimir Milivojevich, who goes by alias 'Boogie.' Many of the photos do, in fact, depict scenes of the city underground – as do most of Boogie's projects, spanning from New York to Sao Paulo, and from Bangkok to Tokyo.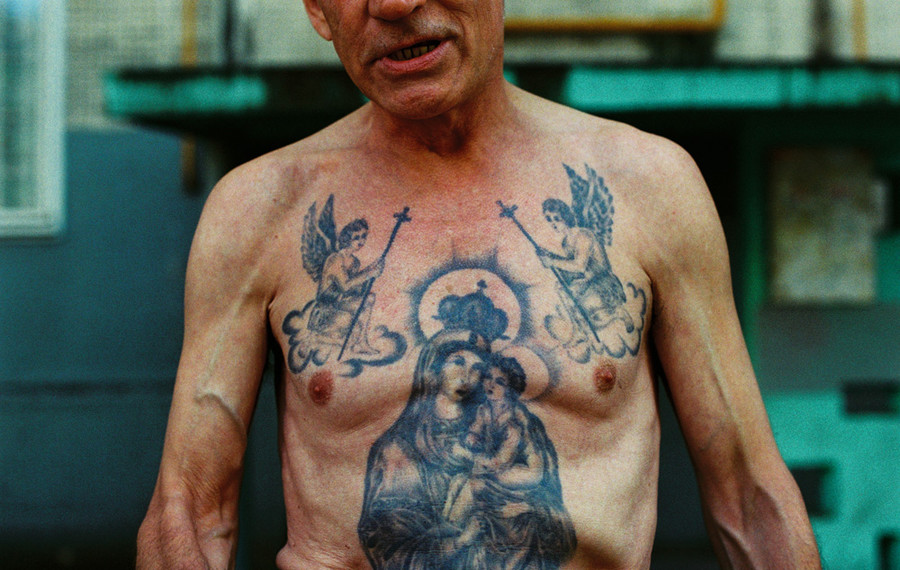 "The fact is, the way I shoot, the way I see things – I usually capture some dark [images], I think even if I shoot flowers and poppies, it's going to look dark," Boogie told RT.
But it's Moscow that's getting the Sun-treatment, of course, with its signature loose rendition of reality. The Sun article opens by claiming that the pictures were taken "ahead of Russia's first World Cup this summer." It doesn't say just how far ahead, but later helpfully provides a hyperlink to Boogie's album, which says "2015" at the top.
That, plus the headline and the random sprinklings of the words "ultras" and "football," are just about the only links provided to the supposedly scary Russian football mobs.
The photo collection features pictures of elderly ex-cons, easily identifiable by the washed-out blue ink of their tattoos; some imposing Soviet architecture and monuments (which do look decidedly grim, in Boogie's trademark style); some dilapidated housing; and some people working out in a makeshift kickboxing gym. But hey, if it looks scary and it's in Russia, it's probably got something to do with football, right?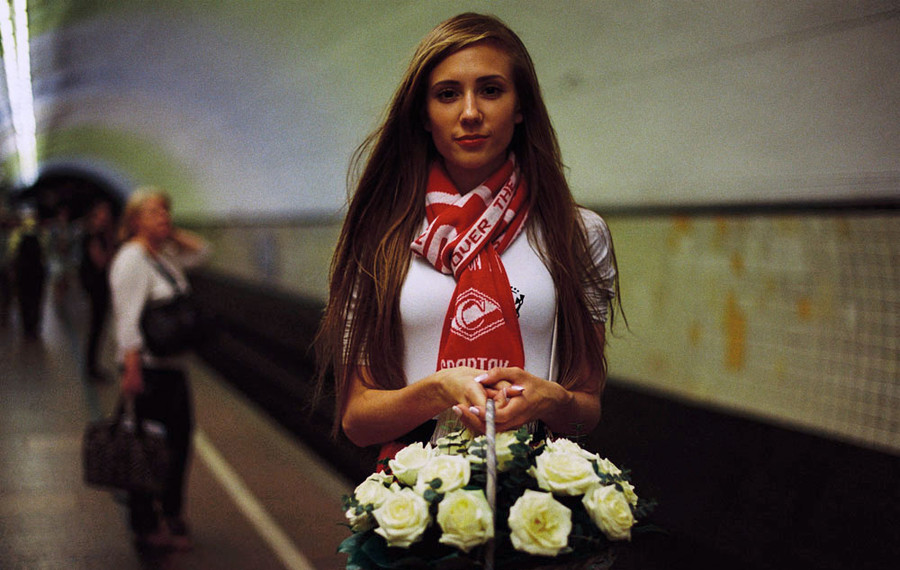 In all fairness, there are pictures with clear football references in the album – three of them. The Sun picked two. One of these shows a man and a child in a stadium. The boy is wearing a Spartak Moscow scarf, while the man is sporting a red shirt that appears to be emblazoned with "SUISSE" (Switzerland). The other football-related photograph features a pretty, young woman in the Moscow metro, also wearing a Spartak scarf – and holding a basket of flowers. Beware ULTRA VIOLENCE, English fans!
Credit where it's due, The Sun has a way with the art of caption. Just look at this: "Two men share a smoke and a beer in broad daylight." Oh Moscow, how low you've fallen.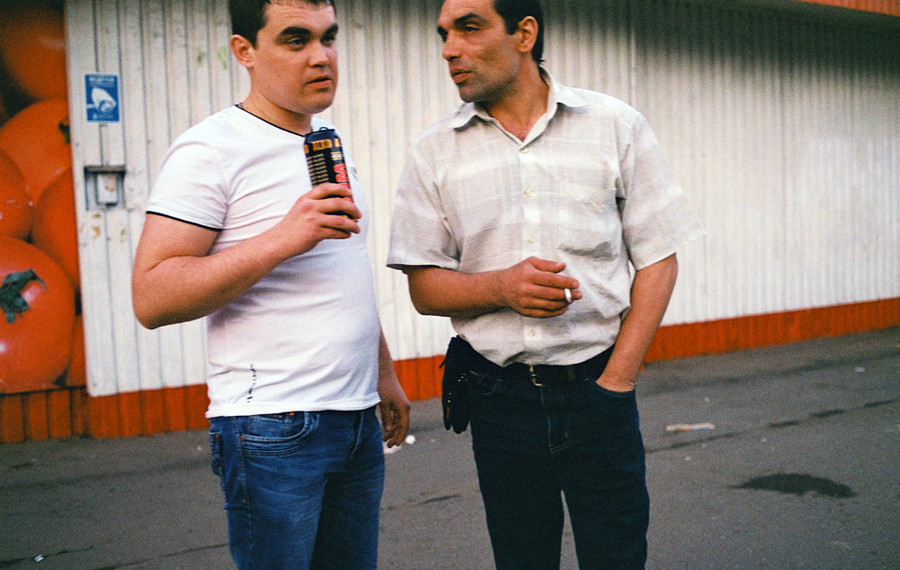 Then again, it takes a bit of a stretch to make the reality fit the narrative. One caption reads: "Nationalistic posters hang in Moscow featuring pro-government messages and images." The supposedly nationalistic poster is an image of marching military-school cadets. The "pro-government message" remains to be deciphered.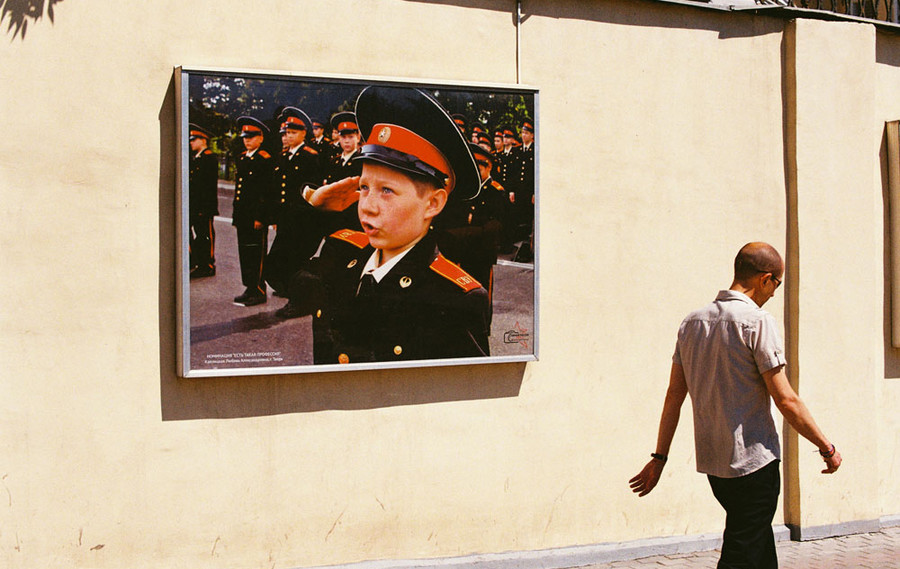 Of course, British tabloids and MPs have been teaming up for some time now, trying to convince the public that every Russian man, woman and child is a sore-knuckled thug, training day and night to ambush the hapless football lovers that dare travel to the 2018 World Cup. From scary documentaries, to parliamentary committee hearings, to articles like The Sun's latest blurt – no holds are barred in the effort to prevent British fans from taking a Russian trip to enjoy the game and the mystery bear country.
'Nothing to do with the real situation'
While The Sun editor may be rubbing their hands in glee, Boogie now regrets that he "trusted them."
"They said it would be an article about my photos, I never assumed it would be anything like this," he told RT over Skype from Tokyo. "Come on, Russians are our brothers – I'm Serbian – it was never my intention to portray Russia or Russians in a bad light."
With his new book of photos from Moscow coming out in September, Boogie is distraught that it may be tainted as a result of the article. He says "the reason I did the book is to kind of pay respect to Russia."
Preferring not to elaborate on The Sun's treatment of his photos, he says: "You can take everything out of context, present it any way you want." The striking image of ultras ravaging the Moscow streets "has nothing to do with the real situation," he says.
As for the 2018 World Cup in Russia, Boogie is sure that "it's going to be perfectly safe, and I feel safe in Moscow, of course – it's a normal modern city."
Like this story? Share it with a friend!
You can share this story on social media: