Theresa May vows to keep funding White Helmets despite alleged Al-Qaeda links (VIDEO)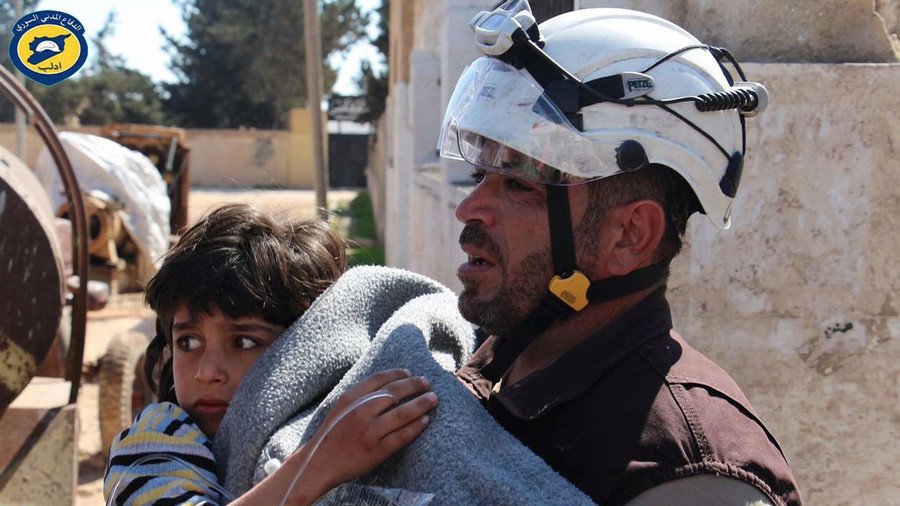 Theresa May has confirmed that the UK will continue to fund the White Helmets, after the US withdrew £200 million ($271 million) in Syrian aid – including money that would go to the controversial group.
During PMQs Labour's Matthew Pennycook, the Greenwich and Woolwich MP pushed the PM on whether or not she would continue to fund the The White Helmets, officially known as the Syria Civil Defence, a volunteer group that operates in areas controlled by jihadist and Al-Qaeda-linked groups in Syria.
"Despite the ever-present threat of death... the rescue workers of the White Helmets have never stopped saving the lives of their fellow Syrians," Pennycook said. "Last week the Trump administration froze their US funding.
"With thousands of civilian lives at risk will the prime minister step up, pledge the government to plug the funding shortfall that now exists, and ensure these heroic rescue workers can continue their work?"
READ MORE: US 'freezes funding' for White Helmets as group's Douma chem attack claim falls apart
May did not hesitate in her response, praising the efforts of the non-governmental search-and-rescue organization.
"We recognise the very important and valuable work that the White Helmets are doing," she said. "They are, as he says, doing this in horrendously difficult conditions. They are incredibly brave to be continuing with that work."
The UK PM then pledged to review the current financial package for the White Helmets, hinting at further funding down the track. "We do support them, we will continue to support them, and my right honourable friend, the international development secretary will be looking at the level of that support in the future," May said.
Although the White Helmets say they act solely as a makeshift emergency response team in a time of crisis, claiming to have heroically saved more than 70,000 lives in war-torn Syria, others question its motives. Footage from Syria has repeatedly appeared to show members of the White Helmets assisting jihadist groups, while multiple accounts from civilians suggested they only helped "their own" and use civilians caught up in conflict only for publicity.
Think your friends would be interested? Share this story!
You can share this story on social media: