Replicated pride: British army gives junior soldiers scripts praising military life and pay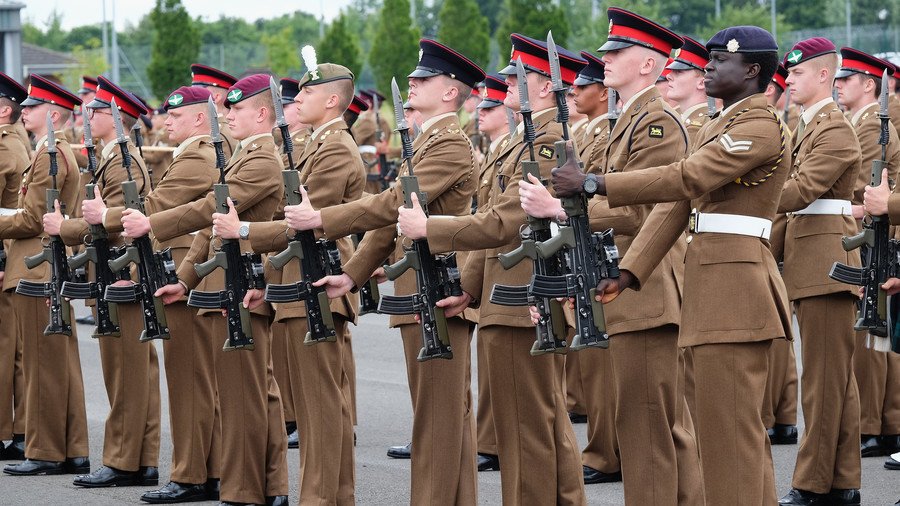 Young soldiers' pride at graduating from the British Army Junior Entry has recently –and literally– echoed across local media in the UK. However, the quoted soldiers appear to be reading from the same script.
Recent graduates from the Army Foundation College (AFC) in Harrogate enjoyed a parade to celebrate their completion of the Junior Entry military training programme.
Many of the teenage soldiers appeared in their local newspapers in articles focusing on the young soldiers' positive experience with the training. On closer inspection, however, it appears that the entire experience leaves each young recruit feeling exactly the same. Word for word.
From Broomsgrove to Yarmouth, young soldiers were quoted as saying the following: "Graduating from AFC Harrogate in front of my friends and family is something that I am very proud of doing. As a junior soldier you learn core life skills such as leadership, teamwork and determination. I have made loads of friends and met new people, and have become much more confident in my own ability."
"I've been paid really well for someone of my age and I've gained useful qualifications. I'm now looking forward to the next stage of my Army career."
In one article featuring two local graduates, the soldiers share the talking points, with each taking half of the lines for themselves.
RT investigated local media articles featuring recent graduates and found variations of the same few sentences dating back as far as 2015. In many cases, aside from the repeated quotes, a couple of sentences were also repeated within the various articles. "Junior soldiers go on to become engineers, IT specialists, infantry soldiers, as well as more technical specialists," is one example, as is the observation that, "unlike civilian jobs, the army pays junior soldiers a full salary."
RT spoke to a graduate who explained that a couple of young soldiers from each platoon are chosen to be featured in the media.
"We spoke to the [army] press [people] and they gave us each a letter with the statement already on, they asked if we were happy with the statement and if we wanted to change anything but most of us just said it was okay and signed it," the graduate told RT. "That quote that I apparently said definitely doesn't sound like me!" they added.
RT has contacted the army and a number of the journalists who wrote the articles that featured the quotes. An army spokesperson told the Guardian the articles were not advertisements, but based on PR releases. "Junior soldier graduates volunteer to participate in these articles and are right to be extremely proud of their achievements." it said.
"It's still shocking, however, to see that this manipulation extends to dictating word-for-word statements for the press, and presenting these to the public as apparently spontaneous and free remarks," Rachel Taylor, director of programmes at Child Soldiers International, told the Guardian.
The PR drive comes in the wake of the Harrogate army college being accused of assaulting and mistreating young recruits. Soldiers alleged they were punched, spat-at and told to eat manure, during a court hearing into their treatment.
The UK Army, as with many other around the world, has been accused of targeting young and disadvantaged people for recruitment. According to the Ministry of Defence, 22 percent of new recruits are under 18, as the UK is one of 19 countries that allow people to enlist at 16.
You can share this story on social media: