Racism, homophobia & assault: 8 Tory council election candidates suspended over allegations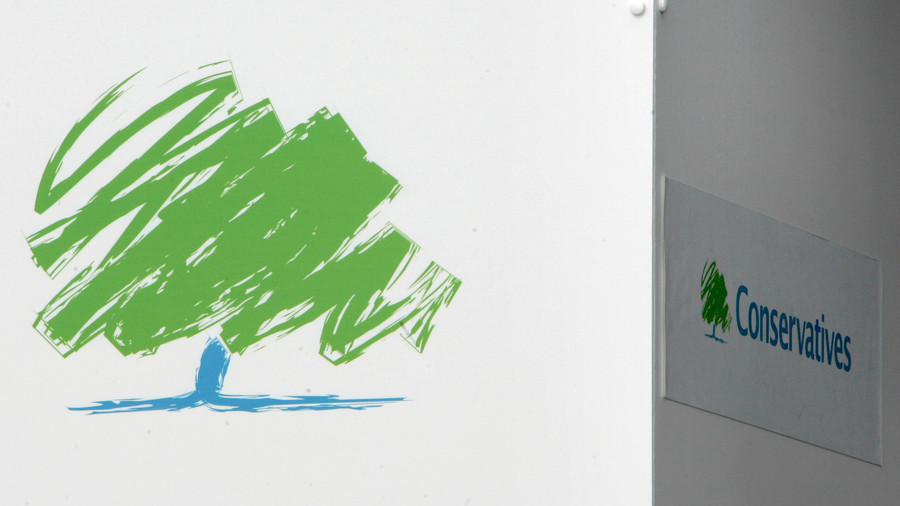 An avalanche of alleged abusive behavior carried out by sitting and prospective councillors has hit the Tory party, all in the space of April, with under a week to go until the 2018 English council elections.
It would be easy to be of the opinion that it's the UK Labour Party with major issues concerning abusive and offensive behavior committed by its members, with MSM coverage going into overload of late, especially on allegations of anti-Semitism.
However, it would appear that Conservative chair Brandon Lewis' 'respect pledge,' which he launched at the start of the year, has fallen on deaf ears after reports that at least eight Tory council election candidates have been suspended for a myriad of alleged misdemeanors.
RT takes a look at the Tories that have been suspended this month.
George Stoakley
The prospective councillor from Cambridgeshire was suspended this week for an alleged anti-Semitic comment he tweeted in 2013, in which he says: "sweating like a Jew in an Attic," reports the Mirror. The paper also says that Stoakley tweeted, "Some people call it aids, I just call it weaponised semen" and used the word "faggot."
If this was not enough for Stoakley, who describes himself as a 'libertarian conservative' in his Twitter bio, to try to defend, Cambridgeshire News claims that he called an 11-year-old girl a "slag," tweeting in 2014: "What the f*** getting pregnant at 11, and giving birth at 12 dirty little slag should have the child taken away."
A spokesperson for the party said: "George Stoakley has been suspended and an investigation is underway."
Tory candidate George Stoakley, 23, who posted vile tweets about Jews, chavs, AIDS and labelled an 11-year-old girl a "dirty little slag", is up for local election in South East CambridgeHe has since locked his Twitter profile >>> @georgecstoakleyhttps://t.co/yZlMdOXGwG

— Socialist Voice 🌹 (@SocialistVoice) April 26, 2018
Matthew Clarke
Self-described 'Fundamentalist Christian' council election candidate, Matthew Clarke has also been suspended this week by his party for comments made in a now-deleted 2005 blog post about homosexuality in which he says gay people should face the death penalty, claims Metro.co.uk.
On the same day same-sex civil partnerships became legal, he wrote in his blog that there was "one penalty in the Bible for such deeds [homosexuality]. When such behaviour is tolerated in a land it can only expect to see God's judgment."
In 2016 Clarke attempted to defend his blog in a tweet after some questioned his attitudes towards gay people. He said: "I never sent death threats. In the past I took the view that homosexuals should face the death penalty."
Local paper the Comet has reported that Clarke has been suspended and was no longer a candidate for the Tory party.
Darren Harrison
Local election candidate Harrison from Watford was suspended last week and is under investigation by the Conservatives, for his supposed links to white supremacists and the violent far-right protest group the English Defence League (EDL). Harrison was set to contest a ward in the Liberal Democrat-run borough before the allegations broke.
An investigation by Vice News alleged that Harrison had links with Generation Identity, an anti-Islam organization with connections to far-right groups across Europe, says the Guardian. The paper also reports that he allegedly has links with the English Defence League's former leader Tommy Robinson.
In what could prove incredibly embarrassing for the Tory party, Vice News, which conducted the investigation into Harrison, has published a picture of him campaigning with Party Deputy Chairman James Cleverly and attending an event with Chairman Brandon 'respect pledge' Lewis.
A rather busy-sounding Conservative Party spokesperson told the Observer: "Darren Harrison has been suspended. An investigation is underway."
George Stoakley, suspended for antisemitism, Darren Harrison suspended for racism, Andy Croy suspended for Islamophobia, Matthew Clarke suspended for saying gay people should face the death penalty.These cases of Tory bigotry came to my attention yesterday.In a 24 hour period!

— Alan Gibbons (@mygibbo) April 27, 2018
The five remaining council elections candidates suspended, pending investigation, are:
Anthony Mullen from Sunderland – suspended this week for alleged "vile and abysmal" tweets that included calling one woman a "fat goth girl" and a "mutant," while labelling Labour MP Diane Abbott a "filthy, bulbous pig," reports the Sunderland Echo.
Alexander van Terheyden from Hoxton – the Hackney Citizen online news outlet claims van Terheyden was suspended this month for supposed anti-Muslim posts on social media where he is said to have described Islam as a "violent political ideology" comparable to communism and fascism.
Former Tory candidate Ian Robinson from Netherton, Merseyside, was suspended from the party at the start of April for sharing racist Britain First material on Facebook, according to the Accrington Observer.
Pete Handley from Oxfordshire – suspended in April for calling a councillor "a cripple," says the Oxford Mail.
Mike Payne from Calderdale, West Yorkshire – suspended for Islamophobic posts on social media where he is alleged to have called Muslims "parasites," reports the BBC.
Like this story? Share it with a friend!
You can share this story on social media: