Margaret Thatcher's heir? Farage fantasizes over Rees-Mogg becoming next PM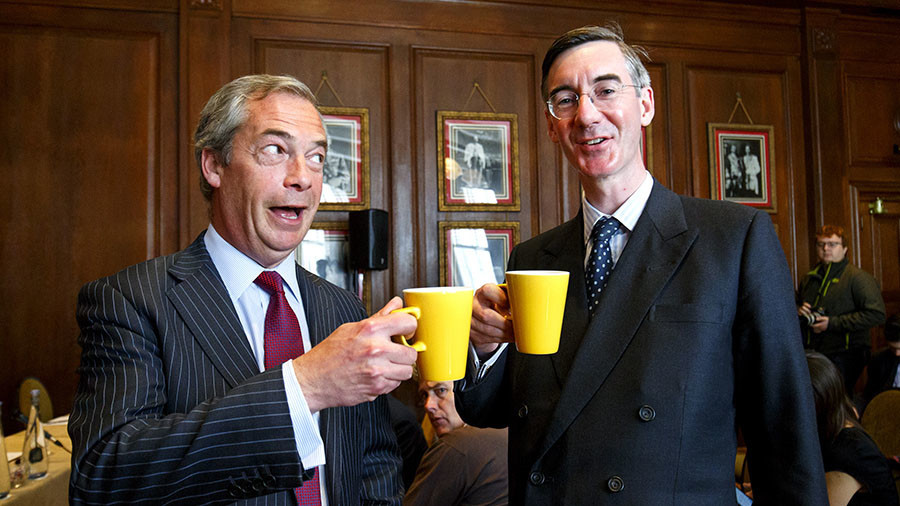 Jacob Rees-Mogg is the leader Britain needs, former UKIP leader Nigel Farage has said, as he claimed that no prime minister since Margaret Thatcher has been able to stand up to the EU's "bullying bureaucrats."
Farage claimed that the candidness of the Tory backbencher, as well as his staunch conviction that Brexit is the best solution for Britain, is what the UK needs for a successful departure from the bloc.
The former UKIP leader turned radio talk-show host, praised the North East Somerset MP over his branding of the government's latest customs union proposal as "cretinous." He also warned House of Lords members, who on three occasions voted against the government on the EU Withdrawal Bill, that they were "playing with fire."
"Since Thatcher's downfall in 1990, there has not been a single Conservative leader who really believed in Britain and was prepared to stand up and fight for what is right while telling the unvarnished truth," Farage wrote in The Telegraph. "With that in mind, I now begin to wonder whether Rees-Mogg might perhaps have the necessary qualities to lead the country."
Son of former Times editor William Rees-Mogg, the Tory backbencher has frequently stirred controversy over his views, which include opposition to gay marriage and opposition to abortion in all circumstances, including rape.
Farage lauded him as a politician, however, saying: "At this dreadful time, when watching the Brexit process has been such total purgatory, all I can say is thank goodness for Rees-Mogg."
While acknowledging that his and the Old Etonian's approach on Brexit is "rather different," the Brexiteer added: "But, boy, do we need more like him to stand up and tell the truth as a matter of urgency."
Claiming that the British establishment and the EU are "colluding" to ensure that the UK will "remain so closely bound to the EU rules" that Remainers will make a case to reverse Brexit, he added: "Rees-Mogg knows this and is doing his damnedest to stop it. He recognizes the importance of honoring the will of the people and his party's 2017 manifesto pledge."
If you like this story, share it with a friend!