Theresa May's govt contravened international law in Syrian airstrikes – Oxford law expert
Published time: 16 Apr, 2018 14:24
Edited time: 17 Apr, 2018 09:06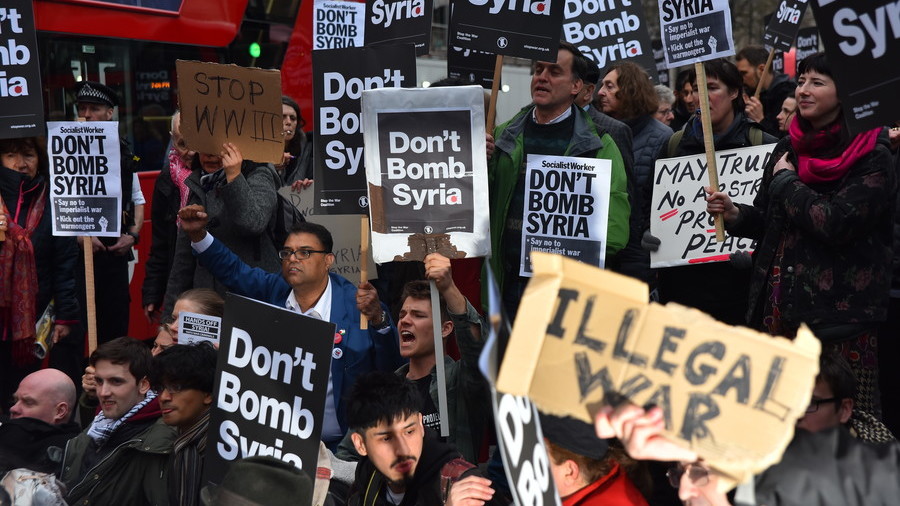 Theresa May is preparing for a parliamentary showdown, days after she ignored calls for a vote on Syrian strikes. As the UK leader gears up for an undoubtedly heated debate, one legal expert says she had no right to attack at all.
According to Oxford professor Dapo Akande, an article by whom was commissioned by the Labour Party and published on its website hours before May's face-off with MPs, the joint British, US and French action against the Syrian government was "not in accordance with the United Nations Charter and international law."
Akande, who is a professor of public international law, said the government's position was "significantly flawed" and not representative of current international legislation.
"It is quite clear that the position advocated by the government is not an accurate reflection of international law as it currently stands," he said. "International law does not permit individual states to use force on the territory of other states in order to pursue humanitarian ends determined by those states."
Akande's legal opinion was also an argument made by former British ambassador to Uzbekistan Craig Murray on Sunday. Murray, who posted an expanded breakdown of Akande's analysis on his blog, said that Prime Minister May's long legal justification for UK participation in an attack on a sovereign state was "flawed" and "totally worthless."
"It specifically claims as customary international law practices which are rejected by a large majority of states and therefore cannot be customary international law," Murray said. "It is therefore secondary and of no consequence that the facts and interpretations the argument cites in this particular case are erroneous, but it so happens they are indeed absolutely erroneous."
The government's legal advice was that the UK could launch military action to "alleviate overwhelming humanitarian suffering" as long as three legal tests were met. The tests were designed to ensure evidence of "extreme humanitarian distress," "that there is no practicable alternative" if lives are to be saved, and "the use of force must be necessary and proportionate to the aim of relief of humanitarian suffering." May has argued that the three legal tests were met in order to make such action a possibility.
Think your friends would be interested? Share this story!