'Marx would be turning in his grave' – Britain's UN envoy appears to think she's debating Soviets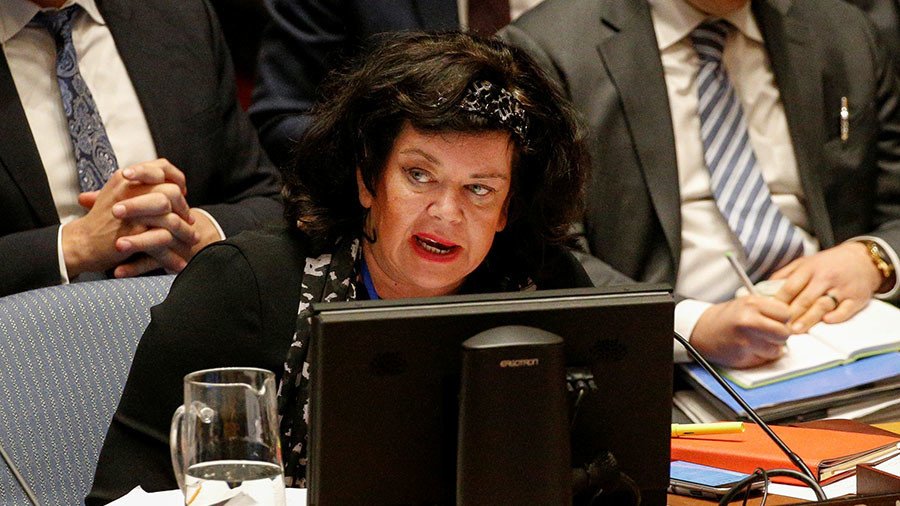 For anyone putting their faith in urbane, sensible diplomats with an unsurpassed knowledge of history to guide the world through the current troubled waters, Britain's current UN representative is unlikely to reassure them.
If language is an essential tool for diplomats to convey information, Karen Pierce conveyed perhaps more than she intended about herself when attempting to evoke Vladimir Lenin and Karl Marx to criticise Russia over an alleged chemical attack in Syria.
In an exchange with Russia's envoy Vassily Nebenzia, Pierce used a Lenin quote to criticise Moscow's use of vetoes at the UN, and Nebenzia responded by saying Karl Marx, Friedrich Engels, and Vladimir Lenin were "frequent visitors" in London.
That's when Pierce hit back with this mind bender: "In respect of Karl Marx, I think he must be turning in his grave to see what the country that was founded on many of his precepts is doing in the name of supporting Syria by condoning the use of chemical weapons on Syrian territory."
She has to be congratulated for uttering a remark that uses so few words to show such ignorance of the past and the present. Where to start?!
Considering some of the rhetoric coming from her department, it is entirely possible Pierce still thinks she's debating the Soviet Union over in New York, and that the Cold War never ended. One has to assume that is the country she is referring to.
On the other hand, perhaps she knows about a Karl Marx who was alive back in the year 862, which is the year a lot of, clearly confused, historians believe the ancient Russian state was founded. I think we can safely call that period, 'pre-Marx'.
If Pierce was attempting to refer to present day Russia, which became independent in 1991, those same confused historians would no doubt be interested to see the foundation documents which refer to Marx's precepts.
Karl Marx's views on chemical weapons or Syria are not widely known beyond the British Foreign Office, but he did condone enough things in his work to suggest Pierce may be confusing Marx with either Gandhi or Mother Theresa.
Pierce is a distinctive presence in the UN debating chamber. On this occasion she was delivering her lesson in alternative history wearing a red and black furry boa, tortoise shell headband and embossed leather jacket. There's a fair chance she thought the outfit would confuse enough people that no one would notice what she was actually saying.
Conspiracy theorists could well suggest that the Foreign Office has deployed Pierce to take some of the attention off her boss, making Boris Johnson look like a considered and knowledgeable presence. It certainly is a golden age for British diplomacy.
Think your friends would be interested? Share this story!
You can share this story on social media: