Will UK listen to 'original neocon' Tony Blair's calls for Syrian intervention?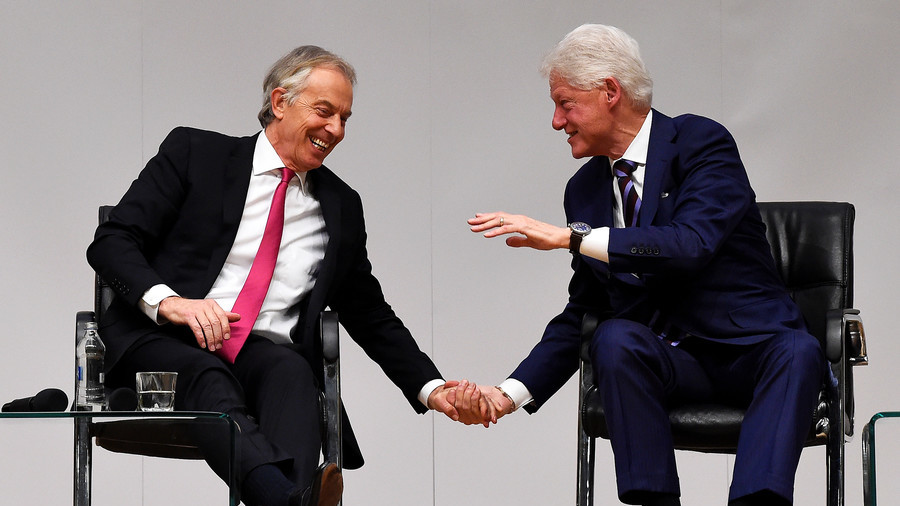 Tony Blair continues to talk the way certain elements in Washington, which want intervention in Syria, wants him to talk, according to military analyst Kamal Alam.
The former British prime minister has sought to push his country into yet another military conflict in Syria. In an interview, Blair – who teamed up with Washington to invade Iraq in 2003 – claimed the UK should back a US intervention against Damascus in the wake of an alleged chemical attack.
Speaking on BBC Radio 4's Today program, Blair said: "I think if the Americans are prepared to act fast, I think ourselves and probably the French government would be in the same position. We should be supportive."
RT: Tony Blair, seen by many as a war criminal, calls once again for foreign military intervention. What's your reaction to that?
Kamal Alam: I think it is not a surprise, unfortunately. The only intervention Blair needs is that of a psychologist to help him out, because he has time and again been deluded as to what his particular role is in the world, especially after leaving office. He continues to be on TV screens as well as policy trying to be relevant. He sounds more and more far away from reality than before.
RT: Blair has already had to apologize for lacking evidence on Iraq. As no proper evidence has been found for this Syrian alleged 'chemical attack' either, hasn't he learned from his mistakes?
KA: He hasn't learned. He has got extreme conceit and arrogance to think he is always right. And even in his apologies, he hasn't given an absolute apology of how things went wrong. And he is someone who continues to talk the way certain elements in Washington want him to talk, the ones that want intervention. And he is called "the original neocon". That is the title one of his biographies gives him. He is far more right-wing than some of the American neocons as well.
RT: The OPCW has confirmed that it will investigate the Syrian alleged chemical attack. So why is the West rushing to threaten military action before any probe has been completed?
KA: Sadly, this is a tried and tested formula of the last seven years. And the West made their mind up even before a minute has passed for any action on the ground. The Russians and the Syrians have said they will give protection. And they are going to check what has happened on the ground. But of course, no one is interested in that. Because they have already made their mind up. And in this case, the Americans, the Europeans and the British have always wanted to be the judge, jury and executioner. And you can't do that. Any crime that is committed, you need to look at the evidence. But if no one wants to look at the evidence, then they want to look the other way.
RT: How likely is it that Britain's government will agree with Blair and back military intervention in Syria?
KA: Unless there is an outcry in parliament, or there is major opposition in parliament. But as things stand, it seems that Theresa May will have a relatively easy time because most people, because of the media hype, seem to be agreed that the British should go in because that is the only way Britain could be relevant as far as the British perspective goes. They don't want the French and the Americans taking all the glory... That is all about playing to the gallery. This is all about headlines, Twitter and media. This is not about what is good for Syria, as far as the US, France and the UK go. It is making themselves feel good. And patting themselves on the back.
RT: Does Blair have any real influence over the British government now?
KA: I think Blair's actual influence is limited at least with the current prime minister. He was close to the former prime minister Cameron, but not this one. As far as the current government or the policymakers go, I think Theresa May has been quite aggressive in her stance. Yet, the British have said that they might welcome an enquiry. But once the Americans go in, there is a very little that the British could do. One could argue that Britain have not had an independent sovereign foreign policy for many years. So, they do what the Americans ask them to do.
RT: Do you expect that Blair will ever be brought to justice for his role in the invasion of Iraq?
KA: Absolutely unlikely. Because as far as the war in Iraq goes, or other war crimes or international tribunals go, they have always been very one-sided and political. Only the people who Europe opposes come to The Hague. But the ones Europe support never make it to The Hague. So, it is unlikely that Blair will be called before it. He has been called for an investigation, there has been a citizen's arrest. But as far as international law goes, he will get away and so will the others.
If you like this story, share it with a friend!