'The war isn't over': Protesters burn Union Jack in fiery Falklands War remembrance (VIDEO)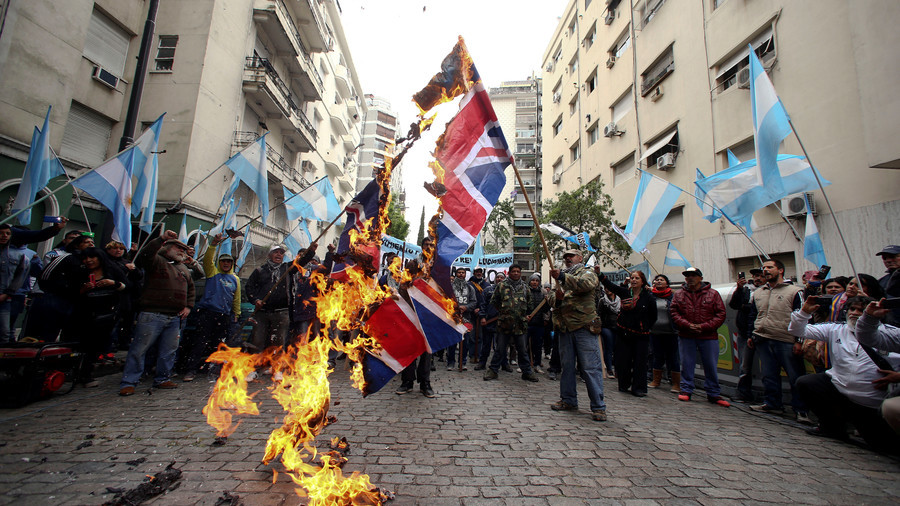 Protesters have taken to the streets of Buenos Aires to burn the UK flag and to make their voices heard, with a clear message 36 years on from the Falklands War: "The war is not over and we are not dead."
Nearly four decades since the British asserted their control over the Falkland Islands – known as Islas Malvinas in Argentina – protesters clashed with police outside the British embassy in Buenos Aires on Monday. One protester was filmed setting fire to an enormous Union Jack.
Falklands War veteran Norberto Covacevich said: "The war is not over and we are not dead, it is not the dead who fight, we are going to fight to the last, to the last drop of blood [we are going to fight] the pirates, long live the homeland."
During the weekend, Argentinian Defense Minister Oscar Aguad spoke on the ongoing tension between the UK and Argentina over the islands.
"We honor our soldier's memory. We also honor those who continue to fight so the Malvinas (Falkland Islands) become Argentina's," Aguad said. "But we Argentines should definitely understand that confrontation takes us nowhere."
The Falkland Islands, a British Overseas Territory that is home to around 3,000 people, was at the center of a power struggle between Argentina and the United Kingdom in 1982. Argentina claims the islands as its own, claiming it acquired the territory from Spain when it became independent in 1816.
In 1982, Argentina invaded the Falklands, which sparked a 10-week war, during which the British retook the islands. The fighting saw 255 British servicemen and 655 Argentines killed.
In March 2013, 1,518 people went to the ballot box on the islands to vote to remain British.
Think your friends would be interested? Share this story!