Over 50 affected as Russia downsizes UK diplomatic mission in tit-for-tat response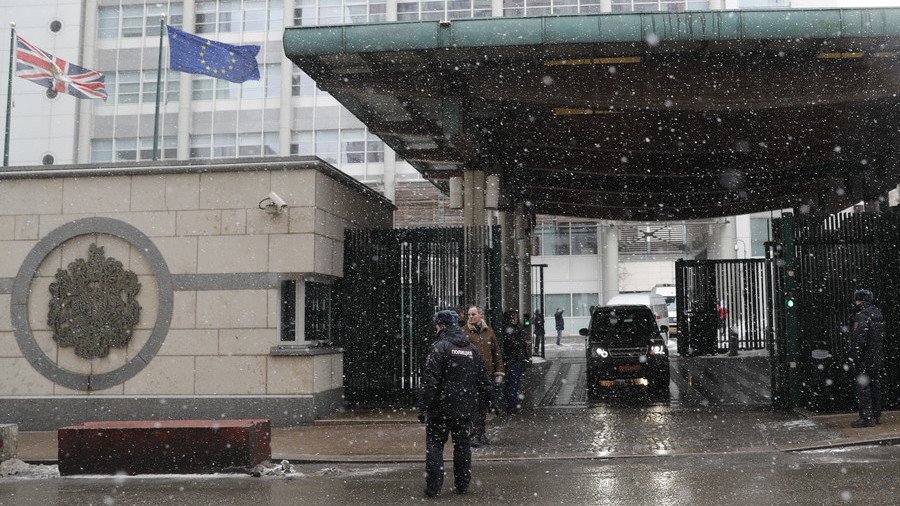 Moscow's decision to have the UK downsize its diplomatic presence in Russia to be equal to that of Moscow in London means that it must cut over 50 jobs at the British mission, according to the Russian foreign ministry.
On Friday, Russia announced its response to the UK's expulsion of 23 Russian diplomats that London linked to double agent Sergei Skripal's poisoning. In addition to expelling 23 British diplomats, Moscow also gave London one month to downsize its diplomatic presence in Russia.
The final number of staff in Russia should be equal to the number of staff at the Russian diplomatic mission in Britain. Similar measures were taken in response to the American expulsion of Russian diplomats over alleged interference in the 2016 presidential election in the US.
The exact number of jobs that the British will have to cut was not initially announced. Commenting on the move on Saturday, Russia's Foreign Ministry spokeswoman Maria Zakharova said that just over 50 people will have to be retired by the British foreign office due to the downsizing.
"We asked for parity. The Brits have 50 diplomats more than the Russians," Zakharova told journalists.
The current round of escalation between Moscow and London started with the poisoning of former double agent Sergei Skripal and his daughter in Salisbury. British authorities said that the Skripals were injured by a Soviet-developed military-grade nerve agent and accused the Russian government of launching the attack, claiming that there was no other plausible explanation.
Without presenting any evidence publicly, London rallied its allies to support its campaign to punish Russia, including through the expulsion of Russian diplomats. The number people expelled by Britain was dwarfed in comparison to the 60 targeted by the US. Other nations kicked out between one and four diplomats, with the exception of Ukraine, which targeted 13 Russians. NATO also joined the initiative, expelling seven people.
READ MORE: Moscow confronts London with 14 questions on 'fabricated' Skripal case
The Kremlin has rejected allegations of its involvement and accused London of conducting an anti-Russian propaganda campaign on a flimsy pretext. Moscow says that the UK's reluctance to publish the actual data from the investigation or even share a sample of the poison used against the Skripals with Russia is highly suspicious and may even indicate London's complicity in the attack.
On Saturday, the Russian Embassy in the UK sent a list of 14 question to the UK Foreign Ministry, demanding it to disclose such details as France's role in the Skripal case investigation and how the UK got ahold of the samples of the nerve agent A-234 (also known as 'Novichok') needed to carry out comparison tests with the actual Soviet-era substance. Moscow also questioned if both the UK and France developed A-234 on their own.
Like this story? Share it with a friend!
You can share this story on social media: