George Galloway tells RT the 'murderous' far right is on the rise in the UK (VIDEO)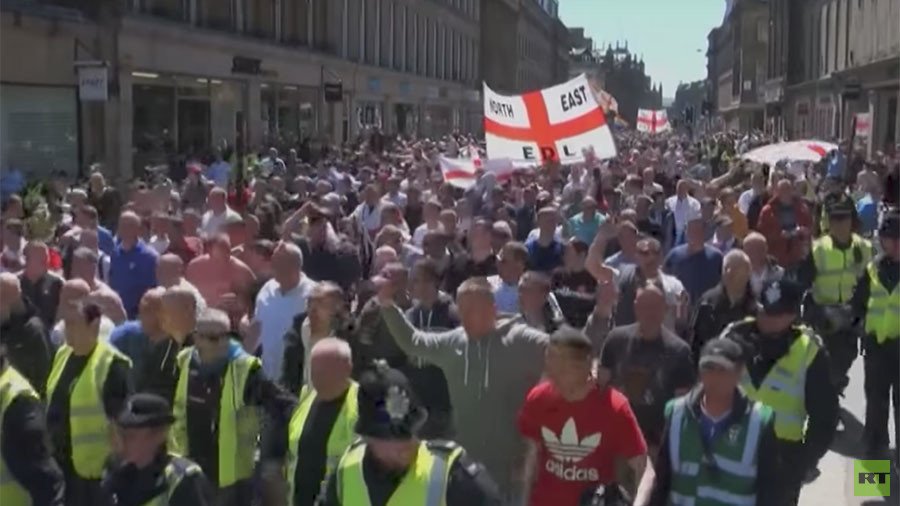 George Galloway's new documentary exploring the "clear and present danger" of the rise of the far right in Britain will screen on RT UK from Wednesday. The former Labour MP takes a closer look at the rise of UK fascist groups.
"Anyone who thought that fascism died with [Oswald] Moseley and the Blackshirts got a very rude awakening with the murder of Labour MP Jo Cox, who was murdered in plain sight by a fascist," Galloway told RT presenter Bill Dod.
The UK's most senior counter-terror police officer Mark Rowley warned last month that the terrorist threat from far-right extremists is on the rise, as he revealed that four alleged terrorism plots had been foiled in the past year. The broadcaster and writer cautioned against underestimating the potential of the far right to incite violence.
READ MORE: UK has 'no strategy' to deal with far-right terrorism, counter-extremism expert tells RT
He said: "British far-right terrorism is a real and present danger. Second to ISIS and Al-Qaeda types – but a growing and closing second – and people need to pay real attention and not be fooled by the vanilla end of this fascist spectrum perpetuating to be against Islamic extremist. 'We are not fascists scoff,' that is the thing we need to be alert to."
When asked if the rise of Islamist terrorism incidents was to blame for the rise of the far right, Galloway said: "They are two sides of the same coin. I think the more horrific the atrocities carried out by these so-called Islamist groups the more they bring forth an equal and opposite reaction by British fascists who exploit the genuine horror of the population of the kind of things they have seen online and TV.
"But these British fascists are just as dangerous to the British public as Islamist fanatics that we see every day on the news," he said. Galloway added it was unfortunate that not enough is seen about the danger of fascism, even though it is a "clear and present danger."
The documentary will be available to watch on RT UK on Wednesday at 03:00, 05:00, 11:00, and 16:00 GMT.
If you like this story, share it with a friend!
You can share this story on social media: