'UK accusations against Russia anecdotal & speculative'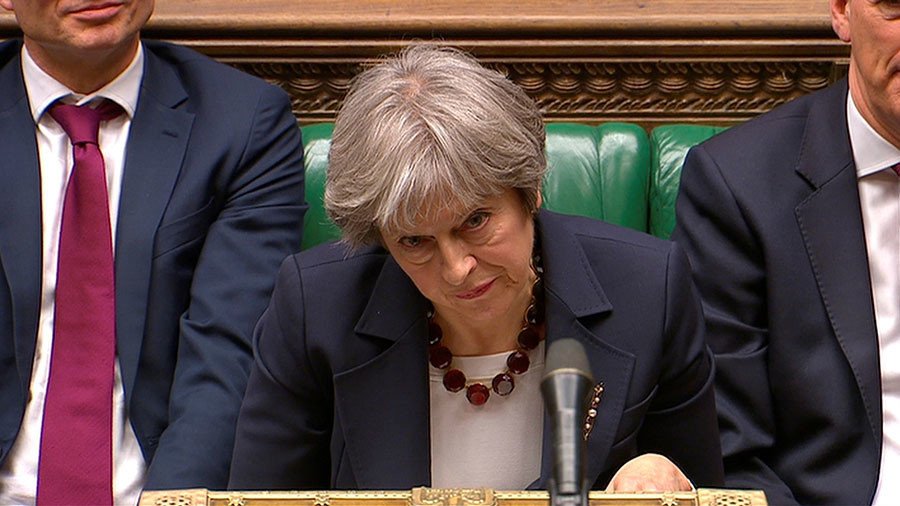 Britain's accusations against Russia over ex-spy Sergei Skripal's poisoning are anecdotal and speculative; there is no forensic evidence that ties this to Russia, says Patrick Henningsen, executive editor of 21stCenturyWire.com.
The UK government accused Russia of breaching the International Chemical Weapons Convention. The statement came at an emergency meeting of the UN Security Council called by Britain over the poisoning of Russian-UK double agent Sergei Skripal and his daughter in Britain last week.
Accusing Russia of being "culpable" in the Skripals' poisoning, Prime Minister Theresa May earlier said the UK will expel 23 Russian diplomats, calling them "undeclared intelligence officers."
RT: Twenty-three Russian diplomats will be expelled from Britain, how wise is the move in your opinion?
Patrick Henningsen: Theresa May laid down an ultimatum to the Russian government and claims that Russia has not come forward with a sufficient explanation to the question put forward by the Theresa May government. But I think you could easily flip that on its head and say the British government has not come forward with any explanation as to how they have assigned guilt to Russia. So, effectively what you have is accusations which are anecdotal. There is no forensic evidence that ties this to Russia. It is speculative. You have this odd situation that we see in Syria as well with chemical weapons accusations there with a bar for international declarations of war between countries is much lower than in a regular local criminal court in terms of forensic evidence. And so hyperbole seems to trump actual forensic evidence and investigations.
I have to agree with Russia's position that we have to presume innocence here until we know for sure through the investigation who was responsible for killing Skripal who had been a double agent… He ended up in the UK on a spy swap. And Russia has never killed anyone that it has given up in a spy swap. And it makes sense because no one would ever swap with them again. In any case, we need to investigate first and then make charges later based on that investigation. – Dan Kovalik, human rights and labor rights lawyer, author of 'The Plot to Scapegoat Russia: How the CIA and the Deep State Have Conspired to Vilify Putin'
RT: Jeremy Corbyn has said there is not yet definitive proof that the Russian state was behind the attempted murder of the spy in Salisbury. But, of course, there's public pressure and Theresa May has enough with Brexit. Is that is why she has come down with it so quickly?
PH: If you look at the pattern – with the UK and with the US – we don't know who has carried out this attack, neither does the British government. We can assume that they don't actually know yet. But what we do know is that both the US government and the British government have had their intelligence agencies lie or present bad dossiers, for instance, on weapons of mass destruction in the past. That is proven. Both in the US and in the UK. So, what they do is put pressure on politicians to adopt or to endorse intelligence assessments. The 17 agencies' assessment in the US for Russian hacking has been proven to be a fabrication. Seventeen intelligence agencies didn't say that Russia hacked the elections. And so that is Russiagate falling apart already. Just this week the US House Intelligence Committee has dropped it.
Why would Russian President Putin, one week before the election, provoke such an international scandal that could damage his image? Secondly, we have the FIFA World Cup – in Russia. Russia [has been] waiting for a long time for this event, invested billions in it, and is very happy to welcome the whole world for it. Why would it risk damaging this big event? I don't believe it. It is a bad James Bond story. - Jean-Pierre Thomas, president of Thomas Vendome Investment
PH: …Politicians will do what they do in these situations based on the intelligence that is put on their desk. And there is a lot of pressure from many different directions, especially on this government which is deemed to be even by the members of her own party as a very weak leadership. But the talking point that is being used as a fallback position is that Russia has lost control of this chemical military grade chemical nerve agent. So, effectively, this is very similar to Obama's red line in Syria: doesn't matter who uses it, if chemical weapons are used in this theater, then that is a breach of the red line. They are kind of using the same sort of methodology in this particular instance. That itself is a fraudulent methodology in terms of how you are going to stake a political price on this.
The OPCW has got set procedures in place that need to be followed through with this and those procedures in investigation and formal steps are not being followed. From my understanding Russia has offered to jointly cooperate but they would like a formal request and they would like samples in order to do the analysis which makes complete sense to me. And why wouldn't you cooperate together? Sometimes if you are trying to hide something or to shift the narrative in certain direction, maybe you don't want to cooperate. It is unfortunate but I don't think this looks very professional of the UK. They are not following the conventions. You got set procedures in place and they are just not being followed. It is kind of a complete disregard to the international rule of law or rule of agreements that are in place. - Earl Rasmussen, executive vice president of the Eurasia Center
RT: What do you think Russia will do in this situation?
PH: Russia is in a very difficult situation. It has said that it doesn't have anything to do with this incident. From their point of view, they have been attacked diplomatically or politically, or geopolitically. And then they are going to respond in kind. The problem with this tit-for-tat situation, as we've seen in the US, as once it escalates pass the second or third move, then it doesn't really matter to the country who started the tit-for-tat, if there is any provenance of the original charges at all. Look at US foreign policy: the Russian collusion narrative is collapsed, yet, the policies, the sanctions, remain. This is what we are looking at with this situation in Britain. It can't be good for either side in the long run, especially if no evidence actually comes out that Russia was involved in this so-called nerve agent attack on Skripal. And that could very well be the case in a years' time. Alexander Litvinenko's brother Maxim said it was ridiculous that Russia would have assassinated his brother with Polonium 210, but of course, that doesn't get a lot of airtime in the British press.
You can share this story on social media: