Boris's secret-spilling jog the latest event in an inglorious sporting history (VIDEOS)
Published time: 21 Feb, 2018 14:39
Edited time: 22 Feb, 2018 12:03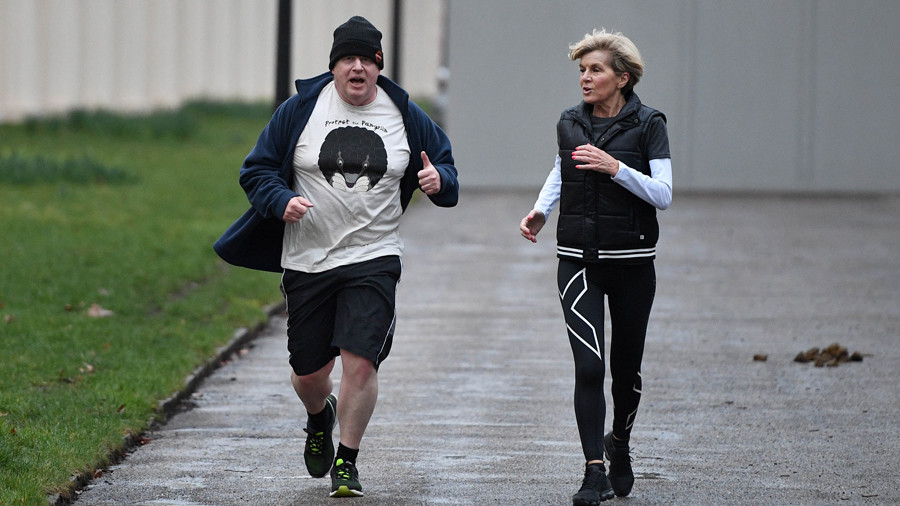 Showing apparent disregard for state secrets, Boris Johnson and Australia's foreign minister were reportedly caught on microphone publicly discussing terrorism and trade among other subjects during a jog in London.
The two were training for a foreign ministers' relay race at the upcoming Commonwealth Games, which will be held Down Under in April. The bedraggled British foreign secretary struggled to keep up with the ultra-fit Julie Bishop, who runs around 10km every day.
In the spirit of politics, they were wearing matching 'Save the Pangolin' tops to raise awareness about the world's most trafficked mammal.
It's fair to say that Boris's political career has been marked by a succession of inglorious sporting moments.
Rugby
During his tenure as Mayor of London, BoJo made headlines for tackling 10-year-old Japanese boy, Toki Sekiguchi, while playing rugby. The whole disaster was caught on camera, but there seemed to be no harm done. A smiling Sekiguchi was photographed later with then-Mayor BoJo.
Football
In 2014, Boris was forced to apologize after he sent a young boy flying during a football match outside City Hall.
The group of children had been recruited to play football with the mayor on a plot of grass next to City Hall in order to promote a new report called Better Health for London.
Basketball
In 2013, BoJo became king of the hoops when he pulled off an amazing basketball trick shot while promoting the Euroleague Final Four tournament on the South Bank in London. Never forget.
Table Tennis
BoJo has a long, loving history with ping pong. In 2008, he declared at the closure of the Beijing Olympics that "ping pong is coming home" to Britain for the next Games.
In 2010, ITV joined the then-mayor when he took on pupils at a school in Bermondsey and lost (despite his best efforts). In 2013, he also accepted a challenge to a game from Pippa Middleton.
Ziplining
In 2012, Johnson was left hanging halfway down a zipline in Victoria Park.
Luckily, the whole thing was caught on video in which Big B can be seen gliding along the wire majestically, waving a UK flag in each hand. Though the fun was short lived - soon he became stuck.
"Get me a rope, get me a ladder," Boris-on-a-wire could be heard yelling. "I think the brakes got stuck."
Football (again)
Saving the best for last, Johnson didn't hold back when he rugby-tackled former Germany international Maurizio Gaudino during a Legend's match back in 2006. The spear-tackle (head first into the crotch of the football great) sent Gaudino flying as the crowd watched on in disbelief.
Think your friends would be interested? Share this story!