Soros-backed anti-Brexit group is 'undemocratic' – cofounder Gina Miller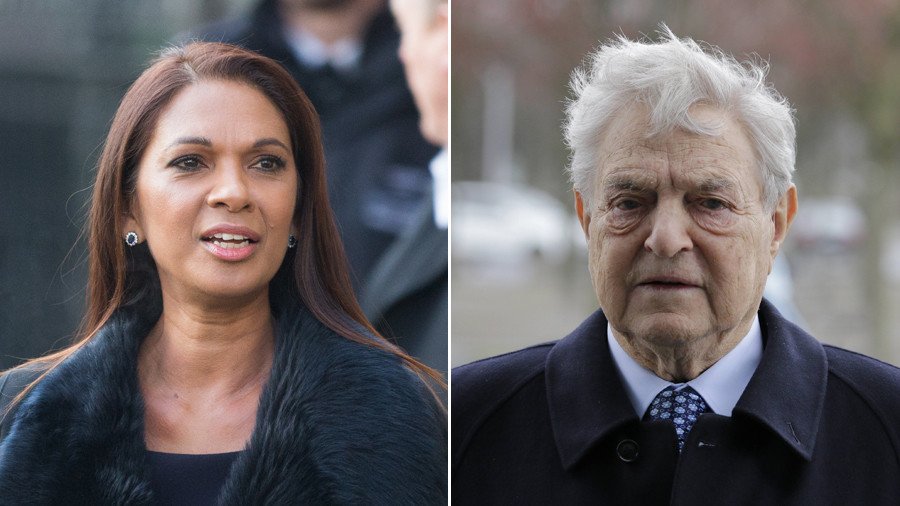 Chief remainer Gina Miller has turned against the pro-EU lobby group she founded, branding it "undemocratic" after reports broke that it is bidding to topple Theresa May and force a second referendum on Brexit.
Miller, who was hailed a hero by remainers after winning a case against the government allowing for a parliamentary vote on the final terms of a Brexit deal, distanced herself from the Best for Britain campaigners.
The pro-EU lobby group made the headlines on Thursday when it was claimed George Soros made a £400,000 ($558,000) donation, leading to claims that the billionaire was interfering in UK politics.
The Telegraph reported that Best for Britain is trying to recruit major political donors and business leaders to undermine Brexit, reportedly lobbying MPs to vote down the final Brexit deal in a move that could initiate another referendum or a general election.
Miller told the Telegraph: "When I read the coverage I pulled back and thought this is not where I think this should be going. It was a good decision to part ways.
"It [Best for Britain] is undemocratic. One of the objectives cannot be to bring down a Government, not without an election or a referendum.
"This idea of bringing down a Government and guerrilla warfare, I don't agree with any of that. I'm a transparency campaigner, it doesn't matter which side of the argument you are on.
"If you are going to have funders who are getting involved in something that could determine Britain's future then the public has a right to know who is backing it. This is about the future of our country."
Miller was quick to distance herself from the group she co-founded in 2017, after the Soros story broke on Thursday.
"Contrary to misleading media reports published earlier today, I have absolutely no relationship with, or involvement in the work of, Best for Britain.
"It is, of course, a matter for Best for Britain whether they choose to make public their list of donors. As a transparency campaigner, I hope they do," she wrote in a statement.
Despite claims of Best for Britain seeking to undermine the Conservative's hand in negotiations, Lord Malloch-Brown, a former Labour minister and allegedly part of the Soros meeting, insisted he is actually "coming to rescue the Tories."
"We are talking about a defeat [for the Conservative Party] of historic proportions.
"This argument that somehow what we're trying to do is anti-Tory – I'm the cavalry. I'm coming to rescue the Tories from their own mistake," he told the Telegraph.
"Our feeling is that the general assumption out there was that the battle was over. We wanted to show that there was still a resistance there. We are deadly serious about trying to reverse the decision."
Patrick Gascard, the president of George Soros' Open Society Foundations, said: "Human rights protections, hard-won civil and labour rights, safeguards on key issues such as clean air or food standards are at stake here for British citizens.
"It is essential that they are informed and empowered to make decisions about the future relationship between the UK and the EU."
If you like this story, share it with a friend!
You can share this story on social media: