Anti-Semitism accusations leveled at the Telegraph following its George Soros 'exclusive'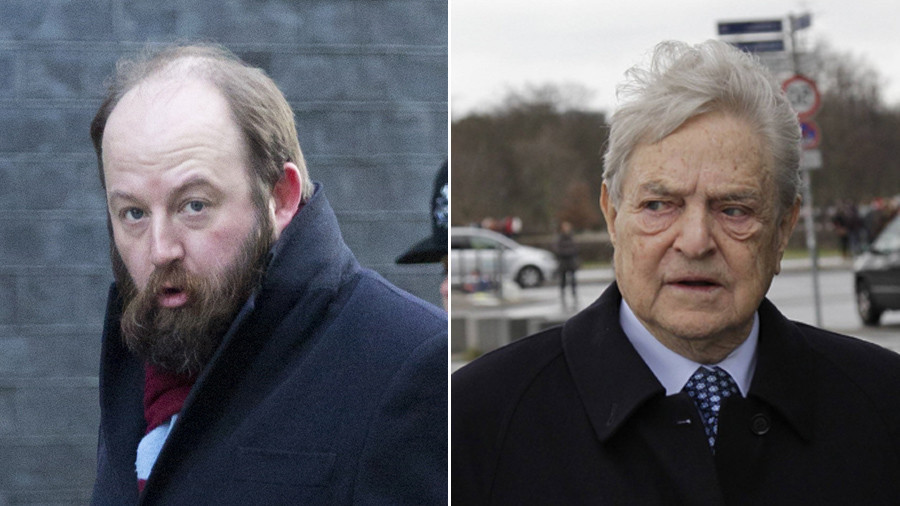 Theresa May's former chief of staff, Nick Timothy, has been accused of "peddling textbook anti-Semitic tropes" in a Telegraph article outlining George Soros' £400,000 donation to a pro-EU lobby group.
Following the article's publication on Thursday, Timothy was accused of anti-Semitism in the front-page exclusive he co-authored, and which RT UK along with many other national outlets picked up.
The article outlines how Soros, described by the Telegraph as the "man who broke the Bank of England" in reference to the fortune he made betting against the sterling in the 1990s, is attempting to undermine the Tory government by donating £400,000 (US$560,000) to pro-EU group Best for Britain. The group is campaigning for a second referendum on the final Brexit deal agreed between Parliament and the EU.
The accusations of anti-Semitism were made by Guardian columnist Owen Jones, academic Bonnie Greer and King's College professor Jonathan Portes, among others. Portes drew a response from Timothy when he asked if he and the right-wing paper were really endorsing "anti-Semitic conspiracy theories."
Jones called out the Telegraph for "anti-Semitic dog whistling," before doubling down on his statement.
Portes and Jones made the allegations on the contents of a separate comment box halfway down the article which details how Soros had been accused of "meddling" with governments' "internal affairs" through his Open Society Foundation (OSF). The authorship of the comment box is credited to Callum Adams.
Adams details how Soros, a survivor of Nazi Germany, was accused by "hardline Hungarian Prime Minister Viktor Orban of trying to orchestrate an ultra-liberal crusade in the country." Orban himself faces accusations of anti-Semitism.
Timothy rebutted allegations of anti-Semitism, saying they are "as absurd as they are offensive."
Despite Timothy's protestations, the allegations were backed by some of the UK's most prominent journalists and commentators.
Jewish Chronicle editor Stephen Pollard highlighted the controversial implications of using the phrase "secret plot."
Journalist James Ball cautioned May and her government to distance herself from such rhetoric.
Some did, however, come to Timothy's defense. Sir Eric Pickles, the former Tory cabinet minister who is the prime minister's Special Envoy for Post-Holocaust, branded the claims "ludicrous" due to Timothy being "a consistent friend of Israel."
Former UKIP leader Nigel Farage chipped in tweeting at Alastair Campbell, writing: "Why is it as soon as Soros is mentioned, suddenly you're an anti-Semite? Is the man beyond question?"
While others argued critics are missing the point altogether, as there should be more uproar over Hungarian-American businessman Soros chucking the eye-watering sum of £400,000 to an anti-Brexit campaign group.
In turn, the Russian embassy in London appeared to echo this as it expressed frustration over the UK government's failure to act on the news of the alleged "political collusion" by Soros. When it comes to pointing the finger at Russia, however, the government needs no second invitation.
If you like this story, share it with a friend!
You can share this story on social media: