'White powdery substance' delivered to Assange at Ecuadorian embassy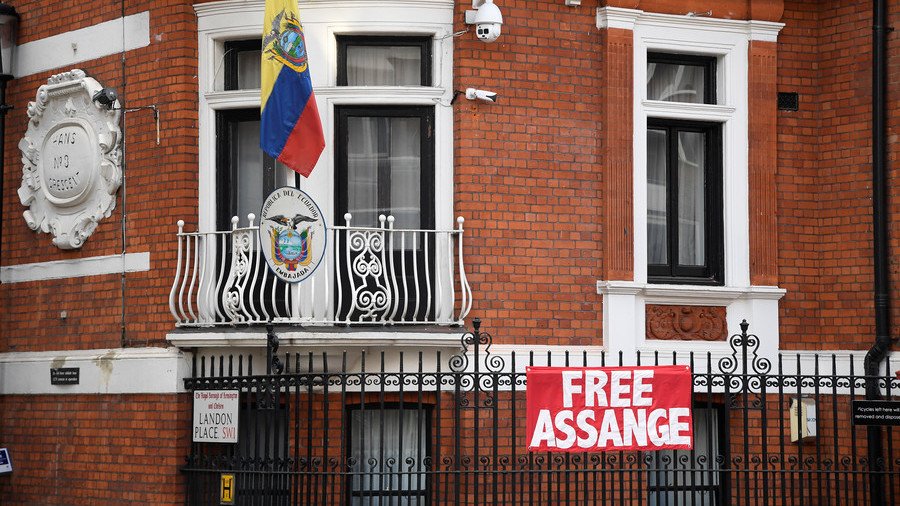 WikiLeaks co-founder Julian Assange was delivered a suspicious package at London's Ecuadorian embassy that contained a 'white powdery substance,' police confirmed on Tuesday night.
Assange, who has been holed up in the embassy for the past five-and-a-half years, fearing he will be extradited to the United States to face trial for WikiLeaks' publication of classified US military and diplomatic documents in 2010, confirmed via Twitter he had received a suspicious package.
"I can confirm that a package containing an unknown white powdery substance and a threat was addressed to my name. It was handed to UK diplomatic police. I understand they are performing toxicology and forensics," Assange wrote.
Kensington and Chelsea police also confirmed that Assange had received a package and that they are investigating the incident.
Having examined the package police said that it was "assessed by specialist officers and deemed to be non-suspicious. There are no injuries and this incident has now been stood down."
Assange received a number of supportive messages to his tweet.
The threatening package was received the same day Judge Emma Arbuthnot rejected a bid by Assange, who was was made an Ecuadorian citizen in December, to have an arrest warrant against him for breaching bail conditions dropped.
A further ruling to have the warrant lifted on "public interest grounds" is due for February 13.
READ MORE: Arrest warrant upheld in Julian Assange case, new hearing on February 13
Assange, 46, absconded in 2012 to enter the Ecuadorian embassy in a bid to avoid extradition to Sweden over allegations of sexual assault and rape. He has consistently denied the allegations. Swedish prosecutors have since dropped those charges.
You can share this story on social media: