Tony Blair warned of 'deep state' conspiracy in UK civil service – ex-Cameron aide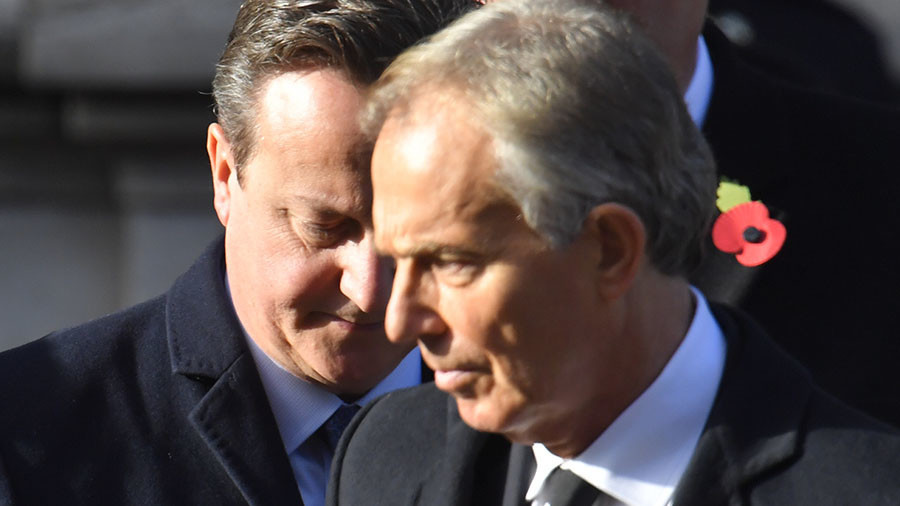 David Cameron's former director of strategy has revealed that Tony Blair warned him of a conspiracy within the civil service, stating that government workers believe "they actually run the country."
In the lead-up to the 2010 election, the Conservative prime minister's former director of strategy, Steve Hilton, was tasked with preparing Cameron for his initial period in government. During this time, he says he met with Blair, who warned of the dangers of civil servants.
"You cannot underestimate how much they believe it's their job to actually run the country and to resist the changes put forward by people they dismiss as 'here today, gone tomorrow' politicians," Blair reportedly told Hilton, who was writing for Fox News, his current employer.
"They genuinely see themselves as the true guardians of the national interest, and think that their job is simply to wear you down and wait you out."
Hilton said they discussed a policy in which the Conservatives wanted to publish everything that the UK government spent money on.
"One of our key priorities was government transparency," Hilton said. "We had pledged to publish details of everything the British government spent money on, as well as the names, job descriptions and the organizational charts of the entire civil service, so citizens could see what their government did."
In the lead-up to the election, Hilton also met with Gus O'Donnell, cabinet secretary and the head of the civil service. During the meeting, Hilton says that O'Donnell asked: "Of course you don't really mean all this government transparency stuff, do you?"
When he was told that the transparency plans were legitimate, O'Donnell apparently replied: "Yes. Well, we'll see about that."
Hilton claimed the civil service then proceeded to fight the publication of financial records at every turn. "And indeed, once we were in office the civil service bureaucracy fought tooth and nail against the publication of any information at all about the scope and functions of the bureaucracy," he said.
Brexit minister Steve Baker and Tory MP Jacob Rees-Mogg have both previously made claims that civil servants are fudging the numbers to undermine the UK's EU exit and influence policy. Baker has since apologized for his comments.
"With all forecasts, the assumptions you make at the beginning determine the outcomes that you get, Rees-Mogg told the BBC's Today program. "If you look at the forecasts the Treasury made before the referendum, they were a humiliation. They were clearly politically influenced," he added.
"The Office [for] Budget Responsibility was set up by [former Tory Chancellor] George Osborne because the Treasury forecasts had been politicized. It was thought that they were unreliable on political grounds.
"With the referendum and with the EU, the Treasury has gone back to making forecasts. It was politically advantageous for them in the past. It is the same for them now. So yes, I do think they are fiddling the figures."
Think your friends would be interested? Share this story!
You can share this story on social media: