Donald Trump 'set to visit UK' next year despite row over far-right group Britain First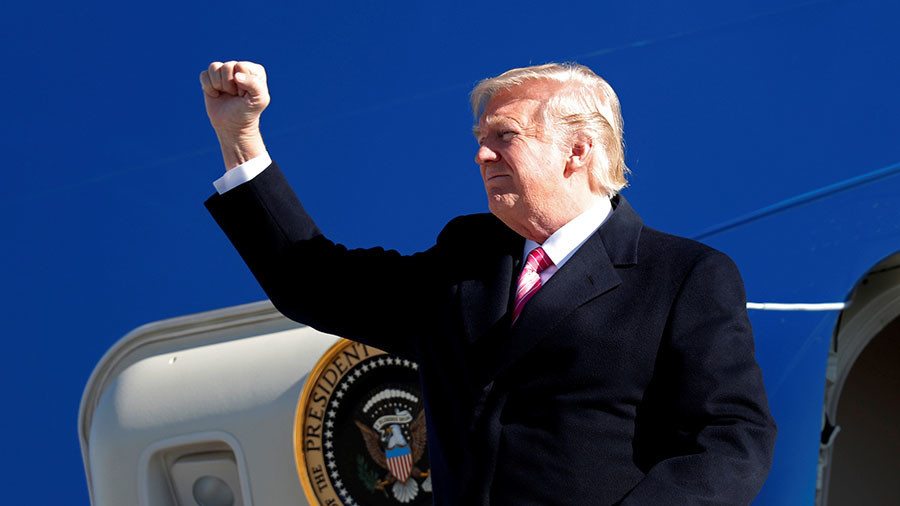 Donald Trump will "absolutely" visit the UK in the new year despite his recent twitter row with Prime Minister Theresa May, the US ambassador to Britain Woody Johnson says. He added their disagreement had been "probably misinterpreted."
May said the US President was "wrong" to share three unverified Islamophobic videos posted by far-right group Britain First earlier this month. The US leader fired back, insisting Downing Street should be focusing on domestic extremism – not what he says online.
After the incident, it was reported that the UK-US 'special relationship' had been rocked, and that Trump was going to delay his visit to the UK. May had also been urged to withdraw his invitation altogether.
.@Theresa_May, don't focus on me, focus on the destructive Radical Islamic Terrorism that is taking place within the United Kingdom. We are doing just fine!

— Donald J. Trump (@realDonaldTrump) November 30, 2017
Speaking to the BBC, however, Johnson claimed Trump's relationship with the UK was still "very, very good." He said Trump had not yet set a date for the visit, which would see him being hosted by the Queen at Buckingham Palace or Windsor Castle.
"Absolutely, I think he will come," Johnson said. "It hasn't been officially announced but I hope he does." He added: "I think it's a very, very good relationship."
Speaking of May's visit to the Oval Office in Washington in January, he said: "The Prime Minister was his first visitor, the first official foreign leader to visit."
Former NFL tycoon Johnson said he was "familiar with these kinds of emotions people have" from his background in sport. "There may be disagreements of how [Trump] says something, or how he does something."
He added that Trump was not "namby-pamby" about expressing his views, adding: "Maybe he'll ruffle feathers - there's no question that maybe some feathers were ruffled."
Following the unprecedented Twitter row, Home Secretary Amber Rudd hinted the visit could be canceled by implying it was never completely organized. "We have yet to make the arrangements," she told Parliament.
Furious MPs – including Tory ministers Sajid Javid, Boris Johnson, Justine Greening and Labour leader Jeremy Corbyn – were among those who slammed POTUS for re-tweeting Britain First, and called for the offer of a visit to be rescinded. Repeating her earlier condemnation, May called Britain First a "hateful organization" that "seeks to spread mistrust and division within our communities."
And the PM pulled no punches when it came to the president's chosen platform – mocking him for his use of Twitter as though it were his press room. May said she "rarely" looked at Twitter. And she wouldn't find much if she did, either. In his juvenile response, Trump tweeted the wrong Theresa May to begin with – instead targeting a mum from Bognor.
Since news of the visit broke in February there have been numerous petitions against it, and a number of MPs have said exactly what they think of the invitation.
Labour's David Lammy questioned the example it set for his young daughters to welcome a man who objectifies women. "I am ashamed, frankly, that it has come to this. We should think very carefully about a president whose attitude towards the press is… abhorrent, frankly. We should think very carefully about a president who has said the things that he has said and put people in fear because of his statements. For that reason, we should not afford him a state visit," he said.
Labour MP Stephen Doughty, after praising America and its people and describing his American roots, followed suit: "Even if you are the ultimate pragmatist in matters of standing against torture and racism and sexism, it is not a sensible negotiating strategy, giving it all up in week one on a plate without any questions asked. How can that make sense to anybody, even those who argue we should be having a strong relationship with the United States?"