Far-right 'peasant' Milo Yiannopoulos called 'brainwashed sheep' by Muslim radio caller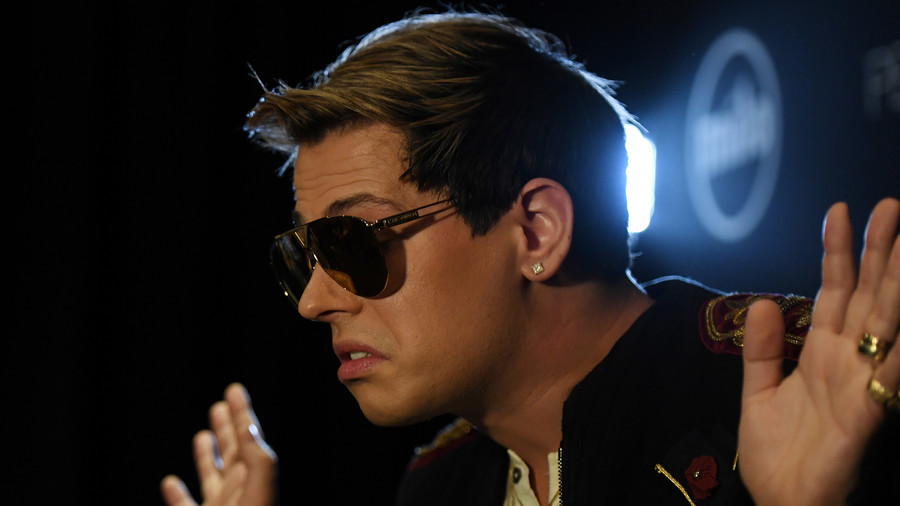 Milo Yiannopoulos is creating a firestorm in Australia. The country's top TV programs don't want him on, but media give the self-proclaimed troll airtime are fielding a barrage of rage from presenters, callers, and viewers.
The provocative 33-year-old swanned into Australia at the start of the week and promptly began his Aussie take-down almost immediately. The man previously branded an apologist for child sexual abuse appeared on Kiss FM's Kyle and Jackie-O show, a radio program with a reputation for controversy even longer than their British guest.
Yiannopoulos faced-off with an irate Muslim man live on the Sydney radio show. The caller labeled the openly-gay conservative "off his head," challenging him to prove his claims that the Koran and the Muslim faith promotes child rape and murder.
"Open the Koran and you find me where it says that we are allowed to do that," Kiss FM listener Amin said. Islam is about peace, is about love. You're just full of sh*t mate. You are a disgrace to society. You're nothing but a brainwashed sheep. Get your facts right before you open your mouth you little peasant."
In his trip Down Under, Yiannopoulos has taken on Australia's biggest names in TV. So far, he has called left-wing TV panellist Waleed Aly a "coward," when the Muslim media personality show reportedly cancelled their interview with the outspoken Brit.
"I watched The Project through gritted teeth and I found [Aly] to be an intellectual lightweight," Yiannopoulos said in an interview with the Australian media. "I've said some really bad things about Muslims, he could throw some things at me that would be very difficult to answer. Why not do it? If I'm such a clown, such a provocateur, or a troll, shouldn't it be easy within a few mins of live TV to tear me to shreds?"
Barbs were aimed at other prime time names and Aussie politicians. So far, Yiannopoulos has slagged off Studio 10 host Jessica Rowe, Today co-host Karl Stefanovic, Green Party leader Richard Di Natale and Green senator Sarah Hanson Young.
A Channel 10 spokesman has insisted that interviews were not cancelled with the controversial Kent native at all.
Listening to Milo Yiannopolous call Waleed Aly a 'a total coward, little liar' at press conference this morning. Challenges Waleed and other journalists to debate him. pic.twitter.com/KGF4kz5lYB

— Matt Young (@MattYoung) November 29, 2017
"The Project and Studio 10 did not cancel interviews with Milo Yiannopoulos. We never scheduled interviews with him," the spokesman said.
Among his commitments in Australia is a Q&A event at Parliament House in Canberra, hosted by Conservative Party senator David Leyonhjelm. The Green Party have called for Yiannopoulos to be banned from the event due to his racist, sexist and abusive views.
Yiannopoulos is on a national speaking tour that runs until December 7.