Boris Johnson hosts Yemen peace talks... while British Army secretly trains Saudi troops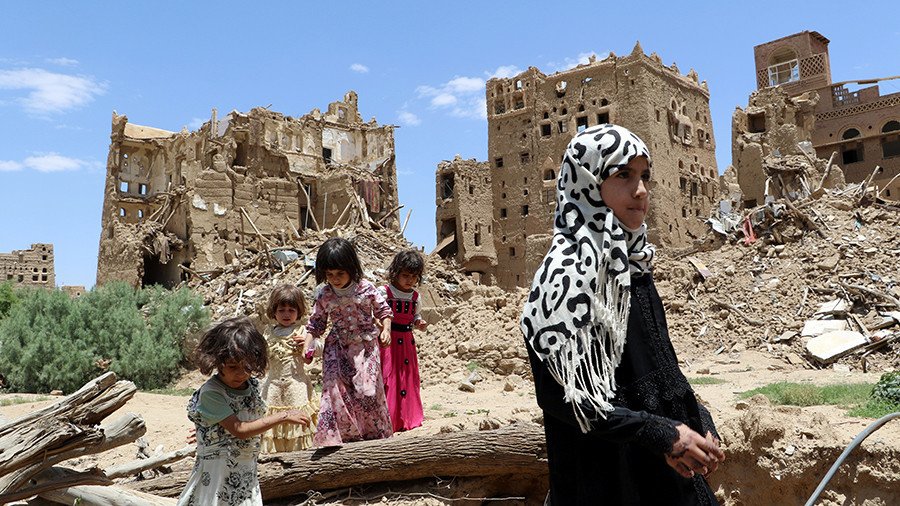 British Foreign Secretary Boris Johnson is meeting Arab foreign officials on Tuesday to seek a political solution to the conflict in Yemen. The talks come just days after the British Army accidentally revealed it is secretly training Saudi troops.
Saudi Arabia has been accused by the UN of committing crimes against humanity in Yemen, where 130 children are dying daily from hunger and disease. This month, Saudi forces sealed off all entry points to the war-ravaged country to prevent supplies from reaching Houthi rebels – grinding the delivery of foreign aid to a halt and exacerbating the humanitarian crisis facing Yemen's population.
The UK government has been criticized for its weak response to the port closures. Boris Johnson previously condemned the Syrian government for using "starve or surrender tactics." However, when Saudi Arabia sealed off ports and trade routes into Yemen, condemnation was not on the cards. Instead, Johnson merely had a chat with the Saudi Crown Prince Mohammad bin Salman to express his concern.
Spoke to Saudi Crown Prince Mohammed bin Salman on urgency of humanitarian situation in Yemen. Stressed need for immediate humanitarian access into Hodeidah port & opening Sana'a airport to UN flights. But famine won't be averted without commercial imports into all of Yemen

— Boris Johnson (@BorisJohnson) November 23, 2017
Andrew Smith of Campaign Against Arms Trade (CAAT) called on Theresa May's government to take a stand against the atrocities. "A terrible humanitarian catastrophe has been inflicted on the people of Yemen, and the immoral blockade is making it even worse. Food and medical equipment is not reaching those who need it, putting millions of lives at risk," Smith said.
"Despite this, and despite the atrocities its forces have inflicted on Yemen over the last two and a half years, the Saudi regime has been given uncritical political and military support by Downing Street. It's time for Theresa May and her colleagues to finally take a stand by clearly and unambiguously calling for the blockade to be lifted and ending the arms sales which have fuelled this awful war."
UNICEF predicts that 150,000 children could die by the end of 2017 as a result of the Saudi blockade. All the while, data collated by CAAT shows that British arms sales to Saudi Arabia have jumped 500 percent since the beginning of the Yemeni war in March 2015.
Boris Johnson is hosting foreign ministers from Saudi Arabia, Oman and the United Arab Emirates, as well as the UN special envoy Ismail Ould Cheikh Ahmed, and the US Undersecretary of State for Political Affairs Thomas Shannon.
Johnson said the UK will host the peace forum as it is "vital that we redouble efforts to work towards a sustainable political solution to the conflict."
"Since the beginning of the crisis, the UK has played a leading role in diplomatic efforts and we will continue to do so. The people who are suffering most from this conflict are the people of Yemen," Johnson said.
The gaffe-prone foreign secretary's appeals for peace have all the tell-tale signs of crocodile tears - at least that's how it looks since the Daily Mail revealed on Saturday up to 50 UK military personnel have been teaching battlefield skills to Saudi soldiers deployed in the Yemen conflict.
The training mission, which was codenamed Operation Crossways, was revealed to the public after the army released photos and information online by mistake. The secret training operation involved troops from 2nd Battalion the Royal Regiment of Scotland, teaching 'irregular warfare' techniques to officers from the Royal Saudi Land Forces Infantry Institute. 'Irregular warfare' is a collective name for tactics used by armies to fight terrorist groups.
More than 8,670 people have died during the war in Yemen, with civilians making up 60 percent of those killed. According to the UN, 49,900 have also been injured in fighting and airstrikes since March 2015.
The conflict has left 20.7 million people in need of humanitarian aid and has led to a cholera outbreak that has affected nearly 900,000 people.
You can share this story on social media: