'Democracy will prevail' – Puigdemont defiant on Alex Salmond's new RT show (VIDEO)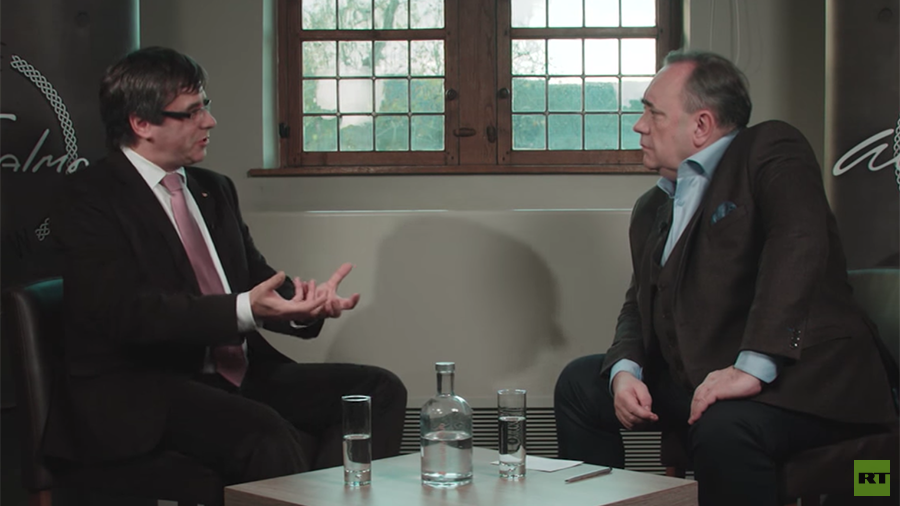 A confident Carles Puigdemont challenged Spain and "the European authorities" to accept the result of the upcoming Catalan elections if pro-independence parties are victorious, during the first episode of Alex Salmond's new RT show.
Puigdemont, one of the first guests on Salmond's show, was defiant and directly challenged Spanish Prime Minister Mariano Rajoy and President of the European Commission Jean-Claude Juncker to "accept a new era of dialogue and negotiation," should he and his allies be victorious.
Despite facing charges of sedition, rebellion and embezzlement of public funds, the deposed leader sounded determined in his exchange with Salmond, calling for the Catalan people to be "confident" and "resilient" because "we will win, we will succeed, finally democracy will prevail."
It has been a tumultuous few months for Catalonia, whose bid for independence was violently opposed by Spain, in contrast to Salmond's own attempt at Scottish secession from the UK.
When asked by Salmond about Spanish police violence on polling day, Puigdemont recalled "I saw the violence in my face," explaining that there were "a lot of injuries" in a school in his own hometown of Girona, just one of many polling stations across the region that were attacked by the national police.
Despite the violence faced by voters, Puigdemont rejected any notion of reciprocal actions from those he represents. "We don't want to be founded in violence. The only possibility to be independent is through democracy," he said. Puigdemont may get another chance in the elections on December 21.
As well as the UK exclusive interview with Puigdemont, the show featured an in-depth conversation with Baroness Helena Kennedy QC, who called for equal representation of men and women in parliament in response to the ongoing sexual harassment scandal plaguing Westminster.
Later in the show, co-presenter and former Scottish National Party (SNP) MP Tasmina Ahmed-Sheikh spoke with Conservative MP Crispin Blunt, who welcomed the apology by Scottish First Minister Nicola Sturgeon over gay people historically convicted of crimes due to their sexuality. Blunt took the opportunity to "point out to our friends in Russia that they represent just as many gay people as I do, in terms of a proportion of the population that I do, and they have rights to be protected."
Salmond, one of the most outspoken proponents of Scottish independence from the UK, has launched a new TV show on RT to challenge the mainstream-media narrative and take the news "out of the Westminster nexus."
The ex-SNP politician says his program will allow the most renowned personalities from politics and business to show "a bit more of their personalities behind the public figure."
You can share this story on social media: