The Alex Salmond Show! Former first minister announces weekly news program with RT
Published time: 10 Nov, 2017 09:53
Edited time: 11 Nov, 2017 08:16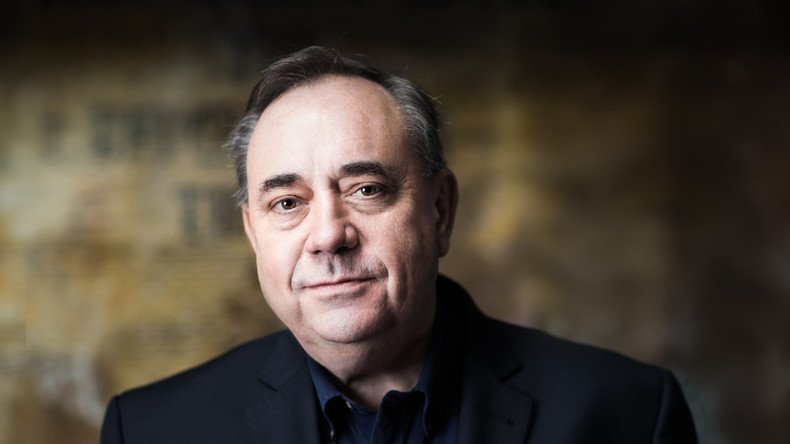 Alex Salmond has launched a new TV show with RT as he vows to battle the mainstream media narrative and take the news "out of the Westminster nexus". The former first minister of Scotland announced the new "Alex Salmond Show" on Thursday evening.
The ex-Scottish National Party (SNP) politician said he is "not interested" in catching people out in a show he claims will be "better" than those produced by the BBC.
"The inspiration came from the show at the Edinburgh Fringe Festival," said Salmond, as he announced the weekly show at the RT HQ in London.
"On this show I'm going to give you the opportunity to get to know the guests better. I am not interest in statistics… and catching people out. We will attempt to get to the personalities behind the public figures," he explained.
"This is not a non-London-centric production. I am looking forward enormously to the first show being broadcast next week."
The Alex Salmond Show will take viewers into Welsh, Irish and Scottish parliaments, as well as looking at the government of Northern Ireland, just as often as Westminster, the new host said.
Salmond fans took to social media to praise the new show, indicating that they would watch it from all across Europe.
"Scotland's best friend will get some political truth into the living rooms of Scotland. Alex, good luck," one woman said.
Another wrote: "Excellent. Good on RT."
Salmond was questioned on his decision to take a show with RT. However, he defended the channel, and explained that his interviews have always been broadcast without slant or edit, even when he has criticised Russia. He said the "mistakes and successes" of the show will all be his own.
Salmond also highlighted the large number of politicians who have appeared on the show, including Labour leader Jeremy Corbyn and Cabinet Minister Liam Fox.
The former first minister said: "This show is mine, the views are of myself and the people I am interviewing, nobody else. I would not have it any other way – and that is the right way to have it."
After a question from the BBC, Salmond revealed his dream interviewee, who he said would be Mary of Guise – the mother of Mary Queen of Scots, who he said "outflanked Scottish Presbyterians" and "commanded the politics of Europe."
He also joked that he is hoping "the Donald" would accept an invitation to be interviewed on the show. Salmond refused to reveal the identity of his first guest, and told listeners at his launch to "watch the show" to find out.
Margarita Simonyan, the editor-in-chief of RT, said: "For the last 30 years Alex Salmond has been seen in halls of power the world over. We are proud to bring his knowledge, wit, and political nous to a new home here on RT." The first Alex Salmond Show will be broadcast on November 16.