Jewish group demands apology after Harriet Harman repeats Holocaust joke live on BBC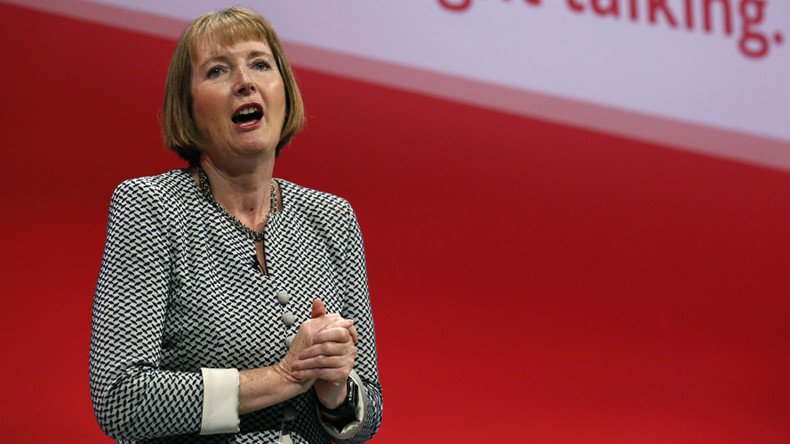 A Jewish organisation is demanding an apology after Labour MP Harriet Harman repeated a joke about the Holocaust as an example of offensive humor. Harman, appearing on BBC One's This Week, was debating the limits of humor with host Andrew Neil and other guests.
"I've long been accused of being a humorless feminist and I'll give you two examples that I protested about because they were offensive and hurtful," began Harman, before repeating an anti-semitic joke that she said Neil would have found "perfectly alright."
At the joke's conclusion, Harman added "that's not funny," before being cut off by the visibly angry host, who snapped: "Alright, well, we'll stop with that one example and we won't bore with the minute silence that you would dare to think that I would think about that because you have no knowledge of that at all." Neil shut down an attempted intervention by Harman, telling her to "be quiet."
Later Neil posted on Twitter that he was "appalled and even a little bit upset." Harman herself took to social media, writing: "Anti-Semitic 'jokes/banter' perpetuate discrimination & hatred. No laughing matter #BBCTW," alongside a picture of a page from her book: 'A Woman's Work.'
Following the broadcast of the exchange, Simon Johnson, chief executive of the Jewish Leadership Council (JLC), said: "I cannot recall being so disappointed in a politician. Harriet Harman must surely know better than to repeat a vile Holocaust joke, irrespective of the point she was trying to make. She must apologize and do so quickly. It is a staggering error of judgement."
Labour Party members and several former and serving MPs has faced accusations of anti-Semitism. In April 2016, Bradford MP Naz Shah resigned as an aide to the shadow chancellor after a social media post surfaced reading "Solution for Israel-Palestine Conflict - Relocate Israel into United States."
Former Mayor for London Ken Livingstone was condemned by some Jewish groups for saying that Hitler "was supporting Zionism before he went mad and ended up killing 6 million Jews."
Several other claims of anti-Semitism leveled at party members were called into doubt, after undercover reporting by Al Jazeera showed the allegations of abuse to be misleading. In a documentary called "The Lobby" an undercover reporter filmed an exchange between a Labour Party member and the head of Labour Friends of Israel, Joan Ryan MP, in which the latter, following the exchange accused the member of anti-Semitism after she questioned the group's support of illegal Israeli settlements in Palestinian territory. The accusations were picked up by the national press and used as an example of the Labour Party's "anti-"emitism problem."
You can share this story on social media: