Conservatives call in 'support team' after 36 Tory MPs accused of sleazy behavior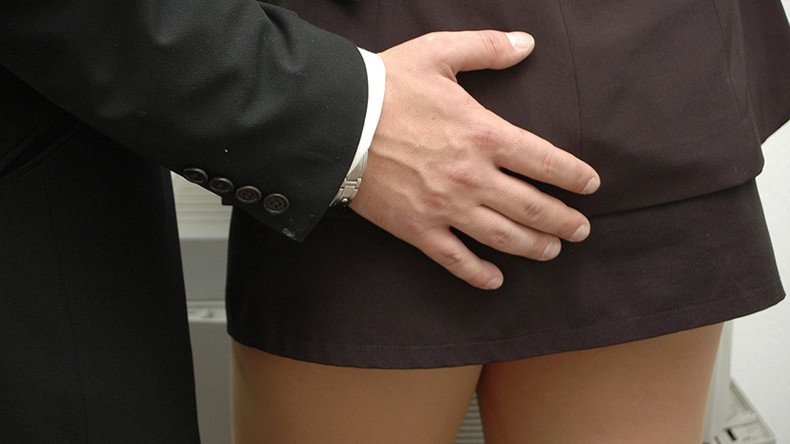 The Tories have asked for a "support team" to help deal with sexual harassment allegations at Westminster, Leader of the Commons Andrea Leadsom has said. Thirty-six Tory MPs stand accused of misconduct including 'sexting' a 19-year-old, asking a staff member to buy a vibrator and being "handsy at parties."
Leadsom made a statement to MPs on Monday as Prime Minister Theresa May sat at her side during an urgent question tabled in Parliament. Leadsom said the current grievance procedure for sexual harassment claims was "inadequate" and pledged to back a "house-wide mediation service."
An independent support team would provide pastoral support and pass serious allegations onto police, Leadsom said. She added Parliament should take action in "days, not weeks," and announced the Cabinet Office is "urgently investigating" reports of misconduct against the ministerial code.
On Monday, the scandal took a new turn after a spreadsheet was published listing 36 Tory MPs who had allegedly behaved inappropriately towards women. The allegations, revealed by right-wing blog Guido Fawkes, include MPs having affairs with junior colleagues, using prostitutes, being "perpetually intoxicated and very inappropriate with women," and "paying a woman to be quiet."
The list reportedly includes two serving cabinet ministers who are accused of inappropriate behavior towards women, and 18 ministers facing allegations of inappropriate sexual behavior. Another 12 are accused of behaving inappropriately towards female researchers, while four are alleged to have behaved inappropriately towards male researchers.
Commons speaker John Bercow described the "culture of sexual harassment at Westminster" as "disturbing."
The dossier comes after Tory MP Mark Garnier, the international trade minister, admitted he asked his secretary to buy sex toys for him – one to give to his wife, and the other for a female assistant in his constituency office. He also admitted to calling his secretary "sugar tits."
Former cabinet minister Stephen Crabb has also been caught up in the scandal. He admitted sending "explicit" messages to a 19-year-old woman he interviewed for a job in 2013 when he was a minister in the Welsh parliament. Crabb, a devout Christian, admitted saying "some pretty outrageous things."
A series of other lurid allegations have also surfaced involving seven other unnamed Tories. They include:
A cabinet minister who is alleged to have put his hand on a female journalist's thigh and said: "God, I love those tits."
A second cabinet minister who is alleged to have had an affair with a junior female aide
A former Tory minister who allegedly propositioned his secretary by asking her to "come and feel the length of my d**k"
An MP who made a member of staff feel "uncomfortable" by repeatedly touching them and making "intimidating" comments about their clothing
A senior Tory adviser who "couldn't keep his hands to himself" at a Christmas party
An MP "pestering" a woman to come to his hotel room for a threesome at the Tory party conference
Earlier this week, the Sun reported that female researchers, aides, and secretaries in Westminster are naming male MPs guilty of sexual misconduct in a secret WhatsApp group. Those allegations include "not safe in taxis" to "groped my arse at a drinks party."
The names of the cabinet ministers under suspicion have been an open secret in Westminster for days, but their accusers have chosen not to go public with their claims.
May wrote to Commons speaker John Bercow over the weekend demanding tough new rules to govern MPs' behavior, saying the problem can no longer be tolerated. She said she wants a shake-up of "toothless" disciplinary procedures.
Government sources insisted May will "do what is right" if Tory MPs are found to be sex pests, even if it endangers the slender majority she commands as a result of the Conservative-DUP voting pact.
You can share this story on social media: