Parents of 'Jihadi Jack' tell RT their son has been 'left to rot' in Syria (VIDEO)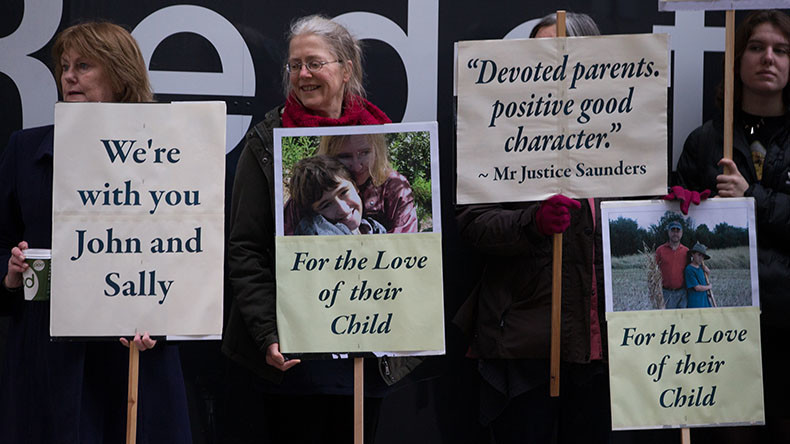 The parents of 'Jihadi Jack,' a British man accused of fighting for Islamic State (IS, formerly ISIS/ISIL) in Syria, are protesting at the government's response to their son's plight. They claim he infiltrated the terrorist group from the inside and has now been "left to rot."
John Letts and Sally Lane have been protesting and fasting outside St Paul's Cathedral in central London since last week. They say it is a demonstration against parliament's failure to help bring their son home.
The authorities suspect he's been fighting for IS, a claim which his parents refute.
"Since he has been out of ISIS territory, he has said 'Well, now I can explain.' Him and a group of friends were working against ISIS from the inside," Lane told RT.
"And in fact I've spoken to some of his friends and they are still in hiding. They say things were made very, very difficult for them when Jack was labelled a terrorist by the British government because it then compromised their position."
He later phoned his parents, saying he'd fallen foul of IS and asking them to send money to help him escape the terrorist group's territory. He succeeded in getting out, and the last his parents heard he had been captured by YPG - the anti-IS Kurdish militia, and is in one of their prisons.
They have not had contact with him for three months.
Lane says the government must address the issue that it is "immoral and illegal" to "leave somebody in a hole with no trial, no process, no charge, what he did, why he did - they are questions he can answer."
"At the moment he's been locked in a room. They've thrown away the key, and he's just been left to rot."
READ MORE: Is killing British ISIS fighters the 'only option'?
The Foreign Office told RT it has been in touch with the Letts family and underlined the complexity of the situation.
"As all UK consular services are suspended in Syria, it is extremely difficult to confirm the whereabouts and status of British nationals there. Anyone who does travel to Syria, for whatever reason, is putting themselves in considerable danger," a spokesperson said.
They added that anyone who returns from the conflict in Syria and Iraq must expect to be investigated by police.
Letts and Lane are awaiting trial for funding terrorism by sending cash to their son - charges which they deny.
Political commentator David Vance has told RT that the story put forward by the man's parents is "ludicrous."
"The notion that this guy went to Syria to infiltrate Islamic State as kind of a modern day James Bond, is laughable and pitiful," he said, adding, that "under no circumstances should this terrorist be allowed back in to the UK."
"This individual abandoned the United Kingdom... The notion that the UK should have any obligation to any such individual is bizarre. We have these individuals leaving the UK to fight abroad, none of them want to join the British Army to fight abroad. Isn't it strange: if they have such a desire to make a statement on the world stage, why not fight for the British armed forces," Vance told RT.