The worst of Times: Establishment paper keeps up attack on RT over London tube ads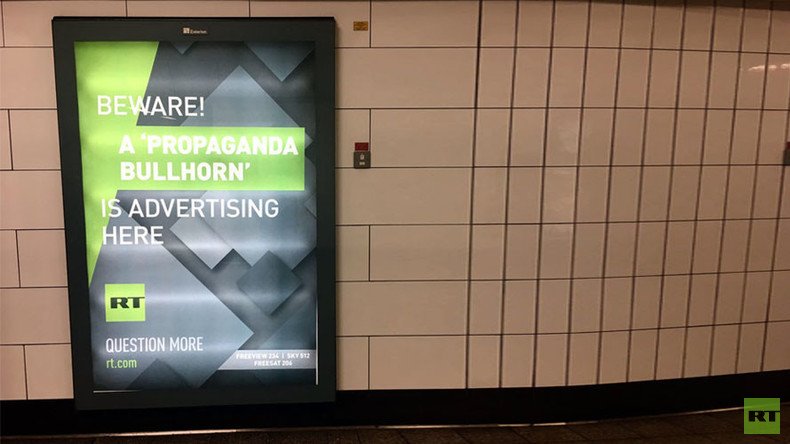 'Provocative adverts for Kremlin-owned television channel' is the familiar opening for the Times' latest knickers in a twist article on RT, as the Murdoch-owned broadsheet joined the angry scrum to condemn a tongue-in-cheek advertising campaign on the London Underground.
A commenter under the Times article itself poses perhaps the most pertinent question: "What happened to our world-famous sense of humor?"
The thrust of the piece is that the Labour Party has asked broadcasting regulator OFCOM to look at the RT ads, which pose ironic (that is a key word here) questions such as 'The CIA calls us a propaganda machine. Find out what we call the CIA," or "Missed the train? Lost a vote? Blame it on us."
Labour's Tom Watson is quoted as saying the ads amounted to a "tacit admission that RT is the mouthpiece of the state." He also admitted they have an ironic tone.
What he doesn't admit – in fact what no one seems ready to admit – is that RT, not Russia, has been directly accused of being or doing those things. Responding to accusations is not really admitting anything, is it?
Perhaps we could put this in the language of the schoolyard. It might be easier to visualize exactly what is happening here...
Bully: "You're a propaganda bullhorn."
Target: (Sarcasm) "Oh yeeeahhh, I'm such a propaganda bullhorn."
Bully: "Oh my god, they admitted to being a propaganda bullhorn!"
The Times said RT declined to comment about the complaint. Why respond to a complaint to OFCOM via the Times?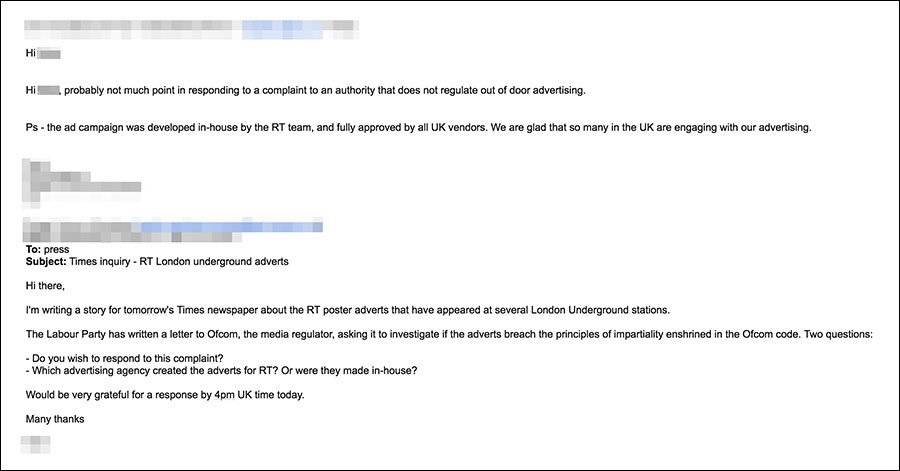 RT did respond to the paper, to fill in a few factual gaps, and the paper used them. Yep, it used the response that RT apparently "declined."
There was no opportunity given to respond to the ongoing campaign being waged by the paper against RT, though.
In case anyone's interested, here's what RT would officially like the chance to say:
"The Times' unhealthy obsession with RT, as evidenced by almost daily publications about our channel, appears to have reached truly troubling levels, when they are willing to blatantly lie about RT declining to comment, simply when they get a comment that doesn't fit their hysterical spin. We wonder what the UK print regulator might have to say about that."
The outrage caused across Britain by these ads has clearly been off the scale. The Advertising Standards Authority has reportedly been inundated by an avalanche of a single complaint. One WHOLE complaint.
The Times has it in for RT. It's a nice easy target, and in the last fortnight alone there have been upwards of five stories printed in its pages about the organization.
It has in-depth investigative pieces like 'MPs are regular guests on Putin's pet TV channel.' Clearly they're disgusted that RT would seek to get balance in its coverage by asking MPs what they think about stuff. Horrifying!
Or what about this headline? 'Kremlin backs revival of Peter Cook's subversive comedy club.' The Russians are coming, and they're coming with comedy!!
RT is constantly accused, not least by the Times, of being part of some kind of 'hybrid warfare.' Well you know, just two days ago Foreign Secretary Boris Johnson took a clearly staged question in Parliament which allowed him to criticize RT. At the same time the Times (widely known as the paper of the Establishment) has been publishing its own RT hit pieces.
So… what is the definition of hybrid warfare?
You can share this story on social media: