Britain on North Korea war footing, could rush new aircraft carrier into service
Published time: 9 Oct, 2017 11:28
Edited time: 10 Oct, 2017 08:51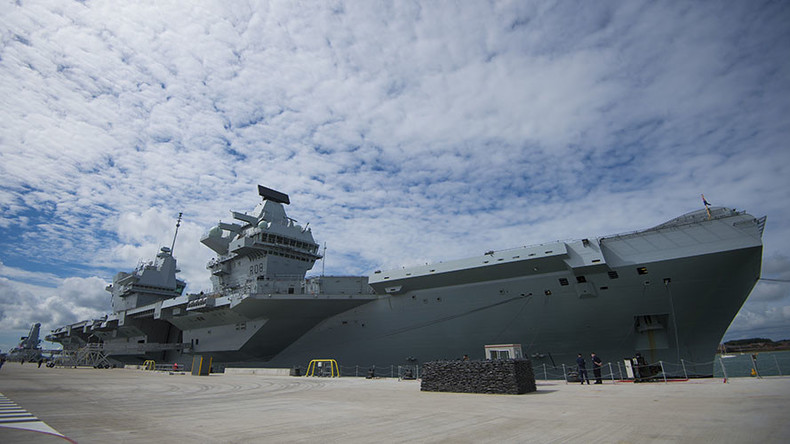 Britain is preparing for war with North Korea as the potential for armed conflict between Pyongyang and Washington edges closer.
While Donald Trump and Kim Jong-un exchange threat and counter-threat, the British military is preparing for the worst.
North Korea has been test-firing missiles in the seas around Japan and insists it is now capable of delivering a nuclear warhead to mainland America.
The provocative tests have enraged the US president, who announced he is considering a military response.
Another missile test could take place on Tuesday to mark the anniversary of the founding of Kim's ruling Workers' Party of Korea.
Military and government sources say if the missile test takes place, it could be enough to prompt Trump to send troops to circle North Korea. The US would call upon its allies, including Britain.
"We have plenty of ships to send… the Type-45 destroyers, the Type-23 frigates. Britain's new aircraft carrier could be pressed into service early if things turn south," a senior Whitehall source told the Daily Mail.
HMS 'Queen Elizabeth,' the first of two new aircraft carriers, could be deployed on her first combat mission.
Flight trials could be rushed through as the carrier has not yet been fully tested - something which could be problematic for the Royal Navy amid sweeping defense cuts.
Despite extensive sea trials the ship is not due to enter service until 2020.
Naval experts drew comparisons with the beginning of the conflict in the Falklands.
"In the Falklands we had to react to an event and HMS 'Illustrious' was accelerated to respond," a Navy source told the Mail.
"This was a reaction to protect British territory, however. In this case [North Korea], the UK would be part of a united global coalition. We would see what support we could give."
Despite warnings from military advisers, Trump has continually hinted at military action.
On Saturday, he said "only one thing will work" against Kim, having previously said the US will "deal with" Pyongyang and the US could "totally destroy" the North.
Last week, the US reported there are open channels with Pyongyang, but there seems to be little action in the way of coming to an agreement.
Kim insists he has the "right" to build missiles and maintain a nuclear program in the face of "aggression" from the US.
North Korea is believed to have around 1,000 ballistic missiles, and Pyongyang's effort to boost its arsenal has resulted in 15 tests since February.
Tests suggest North Korea can now launch missiles over a distance of 7,400 miles (11,900km), putting the UK in range.
Sir Michael Fallon, the UK defense secretary, told the BBC that Britain is at risk from Pyongyang's long-range nuclear missile program.
"The US is fully entitled to defend its own territory, to defend its bases and to look after its people, but this involves us, London is closer to North Korea and its missiles than Los Angeles," he said.
Sir Michael has also insisted now is the time to increase military spending as the government attempts to save an estimated £30 billion (39.5 billion) in a decade to fill the giant black hole in the budget.