Trump wants cash-strapped NATO ally Britain to send more troops to Afghanistan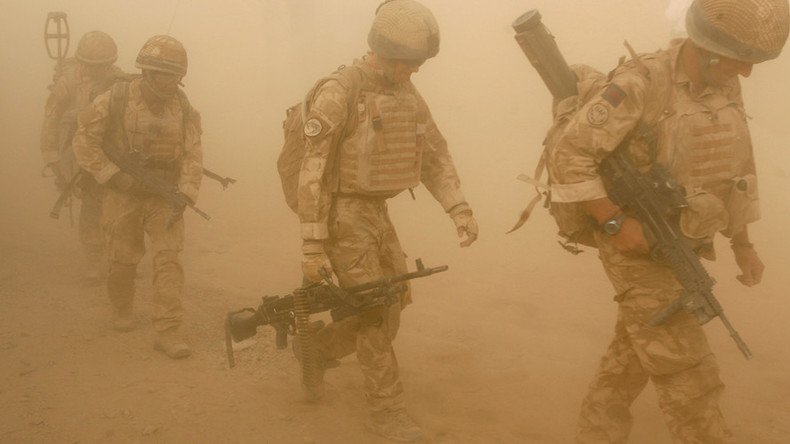 More British soldiers could be asked to return to the 'graveyard of empires' to take part in yet another US troop surge to deal with a resurgent Taliban.
Quite what Britain and other NATO members will actually commit, however, is anyone's guess.
Senior UK defense sources said last month they would not be backing down in the face of US calls for more soldiers, agreeing to send an extra 85 troops.
That'll show them.
But since then, Britain and America's 'special relationship' has been stretched to the limit.
US President Donald Trump humiliated Theresa May when he refused to step in and stop Boeing ramping up its trade war with Canadian rival Bombardier, putting thousands of UK jobs at risk if extortionate tariffs are put in place.
Not to mention the gigantic funding black hole in the British defense budget.
Yet the US has insisted it will be making demands from NATO member states – and that it would be "specific."
This is the same organization Trump has frequently labelled "obsolete."
US NATO representative Kay Bailey Hutchison said the forces would add to the roughly 3,000 extra US troops heading to the region.
"We're going to be much more efficient in asking for specific expertise areas, so we're not just saying we want 50 more troops from Denmark, we're saying we want 50 more troops with technology or the capability to fix machines or run tanks," the ambassador told reporters at NATO headquarters.
"Our goal is to start to see the increase in the levels of trainers and advisers as quickly as possible."
The request is being made while the UK attempts to scale back its military spending, and is being advised to trade troops for tech such as drones and submarines.
The army is facing the worst period of austerity in a generation, which could last 10 years.
There are currently 500 British personnel on the ground, and a further 85 promised.
The UK, in a show of good faith, may offer reconnaissance planes, drones and equipment, a defense source said.
Since NATO formally ended combat operations in Afghanistan, the Taliban has retaken swaths of the country.
Defense ministers from the 29 NATO countries will meet in Brussels next month to discuss the situation.
US troops have been involved in the training of Afghan forces since 2001, bringing the cost of 'the good war' in Central Asia to more than $1 trillion.
The US still has 11,000 troops on the ground with 5,000 from NATO and its partners.
The conflict has already cost the UK hundreds of lives and more than £40 billion (US$50 billion).
Over the course of 14 years, 456 UK troops lost their lives in the conflict – a death rate higher than that of the conflict in Iraq and the Falklands War.
You can share this story on social media: