Aung San Suu Kyi stripped of Freedom of Oxford over Rohingya crisis
Published time: 3 Oct, 2017 14:07
Edited time: 4 Oct, 2017 08:10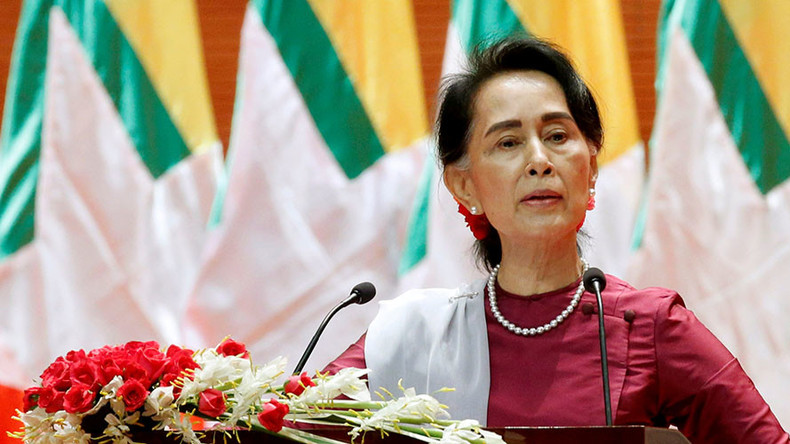 Myanmar leader Aung San Suu Kyi is to be stripped of the Freedom of Oxford over her failure to condemn the "ethnic cleansing" of Rohingya Muslims in the south-east Asian country.
Suu Kyi was granted the honourary title back in 1997 for her "long struggle for democracy." But a cross-party motion at Oxford City Council said it was "no longer appropriate" to celebrate the Myanmar leader.
Suu Kyi was held under house arrest in Yangon for her pro-democracy campaigning during the rule of the military dictatorship.
For spearheading the country's movement towards democracy, she was awarded the Nobel Peace prize in 1991, and in November 2015 her National League for Democracy party was elected.
But she now faces widespread criticism for her failure to address allegations of what the UN has branded a "textbook example of ethnic cleansing" of the Rohingya minority group in the region.
More than 300,000 Rohingyas have fled to neighboring Bangladesh in recent months, escaping a brutal security operation, being carried out by the military, amid claims of extrajudicial killings and villages being burned.
The military offensive was sparked by a group of Rohingya militants when they assaulted a police post in the northern state of Rakhine on August 25, killing 12 security personnel.
The military counter-offensive, however, has been deemed by a top UN official as "disproportionate" to the insurgent attack.
Oxford City Council leader Bob Price supported the motion to strip Suu Kyi of the honour, as he said people are "appalled" by the outburst of violence against what has been described as the most persecuted ethnic minority group in the world.
He added it is "extraordinary" that the Myanmar leader has fallen short of speaking out on reported atrocities in the country.
News of the honour being withdrawn comes after it emerged last week that St Hugh's College, Oxford, had removed a portrait of Suu Kyi from display.
Despite Rohingyas having lived in the predominantly Buddhist country since the 12th century, they remain a stateless community as Myanmar law fails to acknowledge the minority group as a part of the nation.