'Clear & present danger': Hammond warns 'Marxist' Corbyn will turn Britain into Venezuela (VIDEO)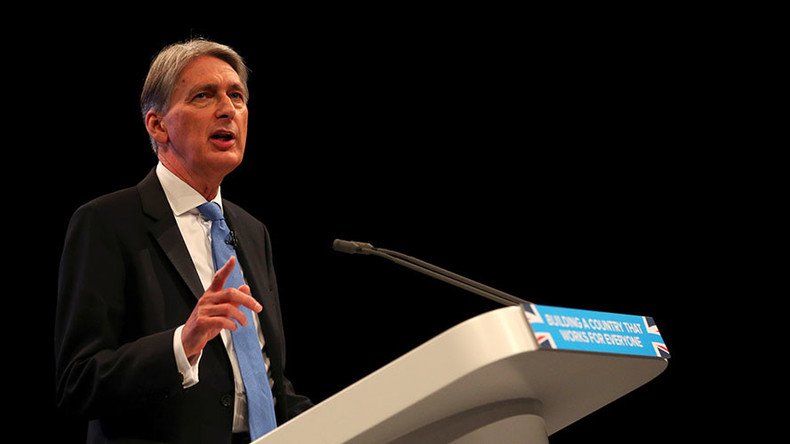 Tory Chancellor Philip Hammond used his speech at the Conservative Party Conference to attack Labour leader Jeremy Corbyn and his "Marxist" policies.
Despite party members - and the rest of the nation - hoping to hear about the financial state of Britain, and whether the well-worn Tory ax of austerity will finally be shelved, Hammond instead focused his address on Labour.
Opposition leader Corbyn was mentioned at least a dozen times.
Alongside Corbyn warnings, Hammond talked about the leadership of North Korea, Zimbabwe and Venezuela - not subjects often found in the chancellor's red box.
The 'Remain' supporter - known as 'Spreadsheet Phil' - used his keynote speech in Manchester to attack the opposition, despite Tory members hoping to get some news on the autumn budget.
Brexit was of course mentioned - four times - in the 35-minute speech.
Attacking the opposition, Hammond said Corbyn and Shadow Chancellor John McDonnell ought to be "treated almost as museum pieces, dinosaurs, worth preserving for the sake of historical curiosity."
Speaking of history, Hammond also talked about Labour's record in the late 1970s, more times than he mentioned Britain's looming break from the EU, or perhaps the chaos tearing apart Theresa May's cabinet.
"It's a wicked and cynical business offering superficially simple solutions to complex challenges," Hammond said.
As the Tories attempt to win over younger voters with policies on tuition fees and Help To Buy schemes, Hammond warned young people are not being given facts by Labour.
"A new generation is being tempted down a dangerous path," he told the conference.
"We have to explain why and how the market economy works and the role of competition as the consumer's friend.
"I think we owe it to the next generation to show how Corbyn's Marxist policies will inevitably lead us back to where Britain was in the late 1970s."
Hammond mocked the Labour leader and his party conference speech in Brighton, again insisting Corbyn is more regressive than he is progressive.
"He is a clear and present danger to our prosperity damaging our economy, even in opposition his loose talk already deterring the entrepreneurs and the investors we need for our future success."
Hammond did however offer an apology for the Tory party's poor performance in the June election.
Yet he managed even then to make it about the Labour leader, who according to a new poll enjoys a four point lead ahead of the government after his Brighton speech.
"I want to thank our financial supporters as well - we need your support more than ever as the union barons mobilize their power behind Corbyn," he said
"Whether it was time or money, I know you all invested a great deal in the 2017 election and I am sorry we were not able to deliver the result we all hoped for."
You can share this story on social media: