Not-so-special relationship? Trump puts America 1st, threatening 4,000 British jobs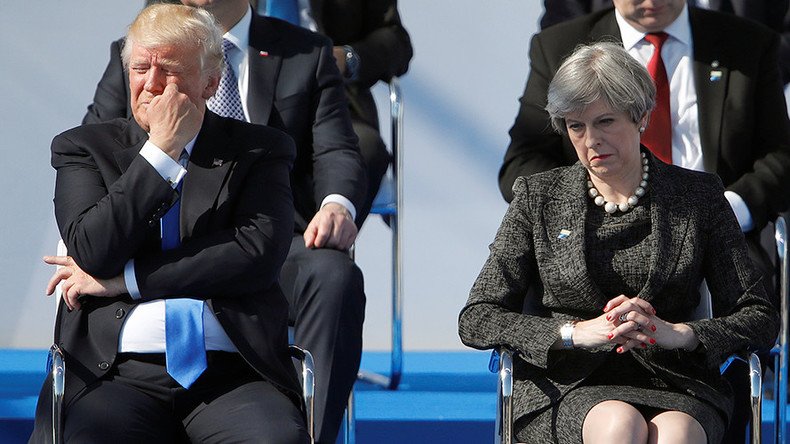 The UK-US 'special relationship' has been rattled – a once treasured partnership shown to be a one-way street, with America first, of course.
Now, UK Prime Minister Theresa May could face the consequences at home.
US aerospace giant Boeing has moved to impose punitive tariffs on Canadian plane-maker Bombardier, one of Northern Ireland's biggest employers.
Action in the form of an international trade dispute was brought against the plane-maker by Boeing over a new C-series plane made by the Canadian firm.
Now, the firm could scrap the project altogether – putting 4,000 out of work in Belfast.
In a desperate bid to stop such an eventuality, Theresa May put the famous UK-US special friendship to the test.
The UK embarked on a charm offensive, with pressure from the Democratic Unionist Party (DUP), which Theresa May struck a deal with in June after failing to increase her parliamentary majority.
Her mission was clear – to have Trump intervene and get Boeing to back down.
Planes left London carrying influencers and hurried phone calls were made between Downing Street and the White House.
UK Business Secretary Greg Clark went to Chicago to meet Boeing CEO Dennis Muilenburg.
By Wednesday morning, however, that mission proved fruitless.
Downing Street said May was "bitterly disappointed" by the decision.
"The Government will continue to work with the company to protect vital jobs for Northern Ireland," a tweet on the prime minister's official account said.
UK Defence Secretary Michael Fallon delivered a message to Boeing which will be seen as a further blow to the Anglo-American love affair.
Fallon hinted that Britain is just as willing to put its own interests first, sending a message to its DUP partners, before they too turn their backs on the Tories.
"Boeing is a major defense partner and one of the big winners of the latest defense review so this is not the kind of behavior we expect from a long-term partner," he said.
"Boeing stand to gain a lot of British defense spending. We have contracts in place with Boeing for new maritime patrol aircraft and for Apache attack helicopters and they will also be bidding for other defense work and this kind of behavior clearly could jeopardize our future relationship with Boeing."
The row came after Boeing accused Bombardier, a big competitor, of dumping its C-Series jets on the aviation market.
In response, an interim tariff of more than 219 percent was slapped on imports to the US.
Without business from the country, and huge import costs, the project could be shelved.
The US Department of Commerce ruling led to a flurry of demands for action by trade unions to protect the 4,000 jobs.
DUP leader Arlene Foster vowed to challenge the "completely unjustifiable" ruling.
"The Prime Minister herself spoke to President Trump when she was recently in America about this very issue because everyone realizes how important Bombardier is to Northern Ireland, and we will use our influence with the Government to make sure that that continues," she told Sky News.
You can share this story on social media: