Party rocks! Evidence of New Stone Age festivals, held 5,000 years ago
Published time: 20 Sep, 2017 11:33
Edited time: 21 Sep, 2017 07:48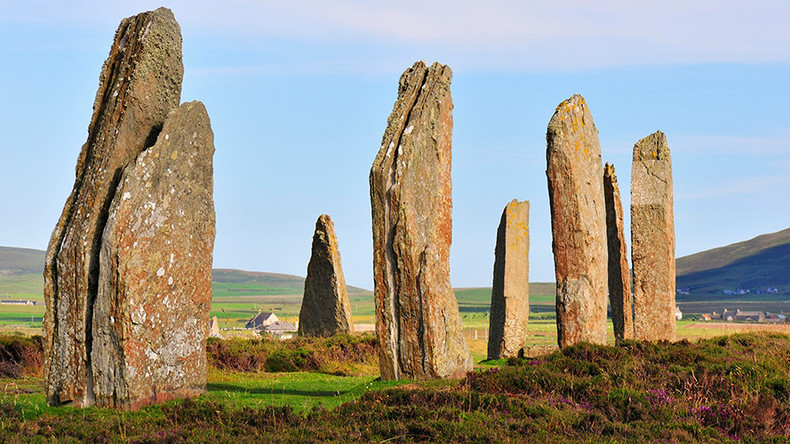 Stone circles in the Scottish Isles have been identified as former 'festival' sites – descended on by partygoers 5,000 years ago.
A study into Neolithic (or New Stone Age) Mainland Orkney set out to discover the origins of the isle's ancient villages, mysterious temples, monoliths and cairns.
Radiocarbon dating – a process of determining the age of an object – was used on more than 600 sites on Scotland's Orkney Islands.
Historians were then able to establish the existence of numerous settlements around Mainland's heartland.
According to the findings from the study, Islands of history: the Late Neolithic timescape of Orkney, from roughly 3,200BC until 2,500BC, stone circles were erected by villagers who lived around the site.
The burial monuments and circles was a sacred area, which they would return to for events and celebrations.
"Once they are built they go back to their villages," Alex Bayliss, the head of scientific dating at Historic England, told the Times.
"Then they would come back to party. It was a festival spot I'm sure.
"They would bring a couple of cows for cooking, they would perhaps meet their future wife."
Bayliss, the first author of the study, said the gathering spot would have attracted generations of partygoers – over centuries – as Neolithic Orkney became a "melting pot."
Two standing stone circles on the island— the Ring of Brodgar which was built at about the same time as parts of Stonehenge and the Standing Stones of Stenness — correspond to this.
In 2003, studies began into the Ness of Brodgar, a 6-acre man-made site "without parallel in Western Europe."
Neolithic Orkney has World Heritage Site status, given in 1999, with sites including Skara Brae, the best-preserved Neolithic settlement in Western Europe.