Biker jailed for wheelies and taking selfies at 117mph on major motorway (VIDEO)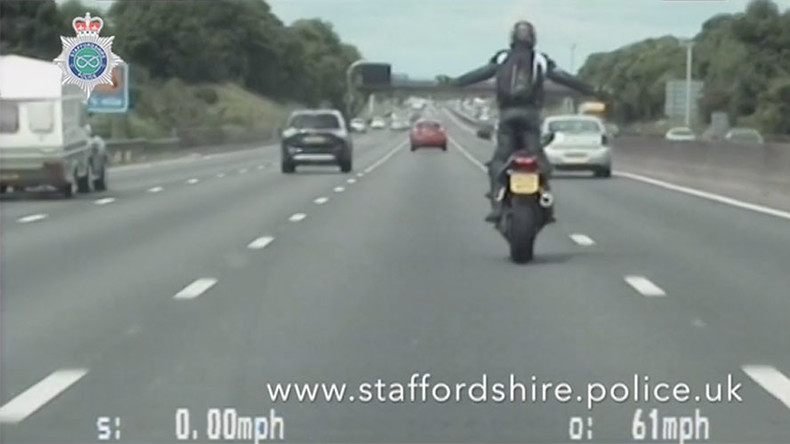 A biker who pulled wheelies and took selfies while speeding at 117mph on the M6 motorway has been jailed.
Pawel Zietowski, 27, from Harlow, Essex, was filmed by an unmarked police patrol car for 16 minutes as he repeatedly flouted road rules.
The footage shows him steering with his thighs, rummaging through a backpack to find a mobile phone and standing up with no hands on the handlebars.
He was sentenced on Monday at Stoke-on-Trent Crown Court to eight months in jail and a 28-month driving ban.
Zietowski, who admitted to dangerous driving at a previous hearing, was pulled over on the northbound M6 near Yarnfield, Staffordshire on June 3.
The car-paint sprayer, originally from Poland, told probation officers he had an interest in stunt riding and was "practicing" on the motorway.
Judge David Fletcher described the footage as "hair-raising."
"You were showing off. It was clearly driving which was over a lengthy period of time, involving speeds of up to 117 mph, involving you twice removing the backpack.
"You were pulling wheelies on a number of occasions and at one point you were standing up with no hands on the handlebars. This was a piece of appalling driving.
"You say you were involved with some sort of group relating to stunt-type driving. If that is the case then there are places and time for that sort of stunt riding to take place. That place is not the M6 at two o'clock in the afternoon with lots of other vehicles on the road."