'Prince George' or 'George at ASDA': Britain's inequality chasm laid bare by school uniforms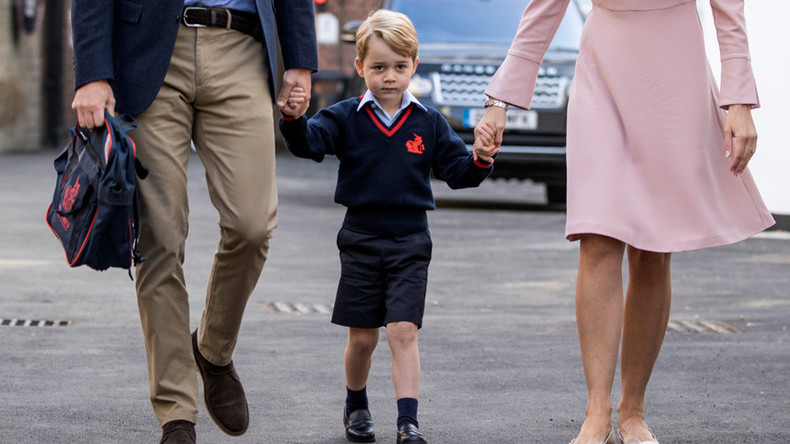 As Prince George starts his first day of school decked out in a £370 uniform with essentials including ballet shoes, a cagoule and an art smock, other pupils across Britain are being excluded from lessons for not buying their uniforms from the right shop.
The four-year-old future king was driven to the almost £18,000-a-year Thomas's Battersea in south-west London from Kensington Palace in the family Range Rover. While staff insist the prince will not get any special treatment, he was greeted by the head of the lower school, Helen Haslem, who was waiting to shake his hand as photographers stood by.
An extensive and specific uniform list on the school's website reveals Prince George is required to have winter, summer, sports and art kits as well as accessories, all of which can be purchased at John Lewis or Peter Jones.
Fees at Thomas' Battersea, which his father Prince William attended, start at £17,604 a year and increase in year 3. If he stays at the selective establishment until the end of year 8, the total cost will be £172,116.
Meanwhile, pupils around Britain not abiding by strict uniform codes are finding themselves excluded from lessons, put in "isolation" or sent home.
Parents say they are being forced to buy plain trousers and shoes from schools' sanctioned uniform providers, despite almost identical items of clothing being available for less than half the price in retailers such as George at Asda. Some parents say forking out the extra cash will put a huge strain on their finances.
Children at Kepier School in Houghton, Sunderland, were forced to "line up in the rain" while teachers color-matched their trousers to make sure they had been bought from the right shop. If they did not match, they were sent home.
One parent, who did not want to be named, told the Sunderland Echo the school's stance was like a prison's.
"They had no right to line up the children like that in the rain and inspect them. It's outrageous, and like something you'd expect in the Army. The headteacher went down the line with a swatch of clothing to check the children were wearing the right uniform."
About 150 students at George Stephenson High School in Killingworth, North Tyneside were pulled out of class on Wednesday for not wearing the right uniform.
Student Jamie Harding, 15, said he was sent to the gym after being told his Kickers shoes were not right. His mother says the only difference between Harding's shoes and the ones on the school's website are three more lace holes.
Another student at the school, Elizabeth Jenkins, 14, was told she was wearing the wrong kind of skirt - a black pencil skirt that sits just above the knee. She was sent to "timeout."
In Wales, 500 pupils were punished with mass detention at Penglais School on Wednesday. Most were wearing the wrong kind of shoes.