'Propaganda talents': Lord Adonis accuses BBC's Andrew Neil of pro-Brexit bias in Twitter spat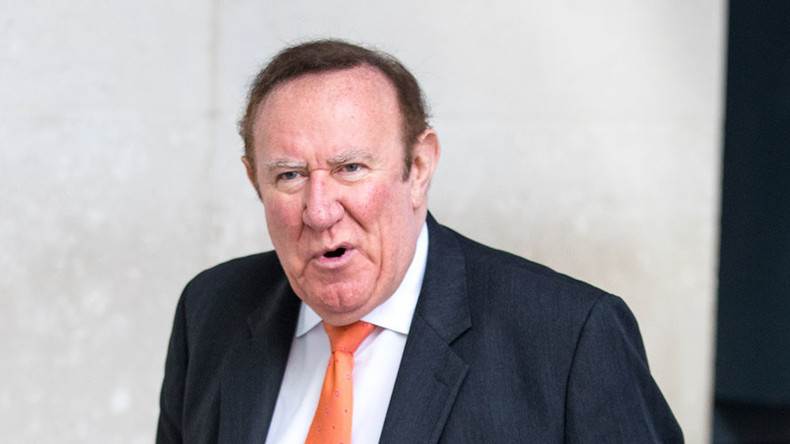 BBC veteran political interviewer Andrew Neil is "thoroughly biased" and talented in spreading "propaganda" about Brexit, former Labour minister Lord Andrew Adonis has claimed in a Twitter tirade.
"I admire Andrew Neil's journalistic & propaganda talents. But he is a lead BBC politics i/viewer [interviewer] & this breaches duty of impartiality," Adonis tweeted.
Adonis says he is writing to Lord Hall, the BBC's director general, to say Neil should no longer be a BBC politics presenter because of his "pro-Brexit bias." He added that Brexiteers "control" the state-run broadcaster.
"He doesn't do his job impartially. He is systematically pro-Brexit. This isn't acceptable while Brexit is so bitterly contentious," Adonis wrote on Twitter.
"As Brexit falls apart I'm increasingly confident we will stay in Europe. The British people will demand a referendum to stop this fraud."
Adonis says Neil has not replied to his claims - "the only time I've ever known him tongue-tied."
Others have jumped to Neil's defence, however, calling Adonis "daft," "ridiculous" and "preposterous."
Sky News All Out Politics presenter Adam Boulton tweeted: "IMHO [in my humble opinion] Almost all reporters/interviewers on UK news TV are just trying to do a good job as journalists, inc Andrew Neil. Andrew Adonis should chill."
Editor of the Financial Times Lionel Barbier tweeted: "I vote for Andrew Neil to remain … one of the very best interviewers we have in Brexit Britain."
Last week, Neil stood down as the presenter of the BBC's Sunday Politics programme after five years in the post; he will be replaced by former Channel 4 News journalist Sarah Smith.
Neil is in the process of renegotiating his BBC contract and continues to present the programmes Daily Politics and This Week.
You can share this story on social media: