Brexit chief Davis hits out at 'silly' EU negotiation tactics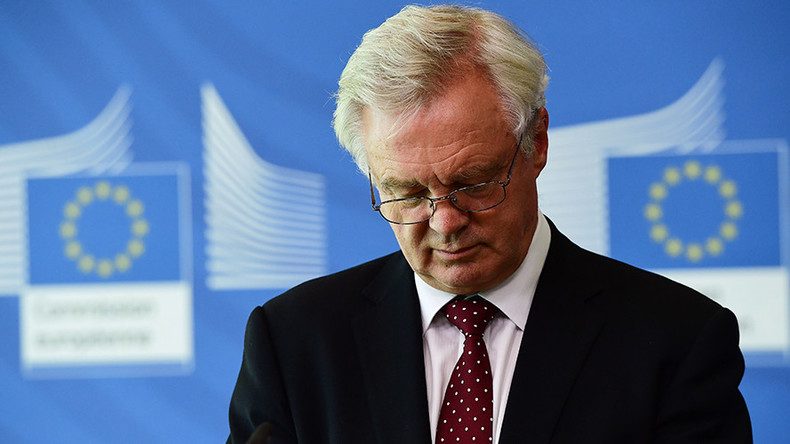 UK Brexit Secretary David Davis has said that the European Union made itself look "silly" by claiming there had been no real progress in negotiations over Britain's exit from the EU.
During a tense press conference held by Davis and Michel Barnier of the European Commission Thursday, Barnier repeatedly voiced his frustration with what he called a lack of "any decisive progress on any of the principal subjects" such as a financial settlement, citizens' rights, and future access to the single market.
Speaking on the BBC's Andrew Marr Show Sunday, Davis maintained there had been "sufficient progress" on some of these issues, but bemoaned his European counterpart's focus on Britain's financial obligations to the EU.
"Bluntly, I think it looked a bit silly, because there plainly were things that we've achieved," Davis told the BBC. "The commission puts itself in a silly position if it says nothing has been done.
"They've set this up to try and create pressure on us on money, that's what this is about. They're trying to play time against money.
"It's a two-year negotiation period. They are trying to use time against us."
READ MORE: EU delaying in hope Westminster MPs will derail Brexit, MEP tells RT (VIDEO)
The Brexit chief's comments come amid claims in the Sunday Times that UK Prime Minister Theresa May has already agreed a Brexit divorce bill worth as much as £50 billion with the EU.
Quoting a 'source,' the paper says that Davis and May are keeping the agreement until after the Conservative Party conference in October for fear of attacks from the party's Eurosceptic MPs.
Asked about the report, Davis told host Andrew Marr: "It's rubbish, it's nonsense. The story is completely wrong."
However, he did concede that Britain would likely continue to pay money to the EU after Brexit, but said that the sums would come down in the medium to long term.
"We are a country that meets its international obligations – but they have got to be there," he said. "They may not be legal ones, they may be moral ones or political ones."