Who is Louise Mensch? Former Tory-MP on fake news mission to take down Russia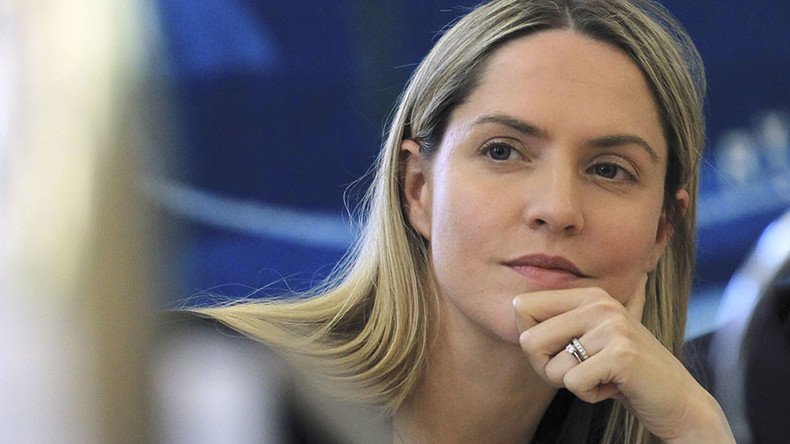 Louise Mensch, former Tory MP turned "investigative journalist" who claims Donald Trump ran a Russian-backed sex-trafficking ring out of his New York modeling agency, is not exactly revered for her factual reporting.
Earlier this week, fellow conspiracy theorist Claude Taylor, a former staffer in the Bill Clinton administration, tweeted details of a made-up criminal inquiry into Trump's model agency on sex trafficking charges.
The allegations were endorsed as authentic by Mensch, and she published the story "PIMPOTUS – Trump Models and Russia's Human Traffickers" on her blog Patriotics.
That source proved to be false, however. 'Caitlin,' claiming to be an official working out of the New York Attorney General's office, told The Guardian she had made the story up out of frustration over the "dissemination of fake news" by Mensch.
She still claims the story is accurate.
Mensch, a former Tory MP and chick-lit novelist who is married to Metallica manager Peter Mensch, has developed a second career spouting unconfirmed hypotheses about Trump and his links to Russia.
Worryingly, the likes of The New York Times has accepted articles from her, including an op-ed in March offering advice to US officials investigating allegations of Russian collusion. Just a few months ago, The Guardian gushed over her journalism skills.
From blaming Russian President Vladimir Putin for the Westminster terrorist attack in London to claiming Trump has not been in power since May, RT UK has put together a list of Mensch's finest fake news.
Nonsensical 92-word post on Trump indictment
In May, Mensch claimed that a sealed indictment intended by the justice department to "form the basis of Mr Trump's impeachment" had already been "granted" against the president over his links to Russia.
Critics pointed out that criminal indictments are not "granted," that impeachment is initiated by Congress, not an executive agency; and that Mensch appears to have misunderstood the supremacy clause of the US Constitution, which she incorrectly said meant Trump must be impeached before he could be prosecuted.
Undeterred, Mensch tweeted that the mainstream media "know they are being scooped of the story of the century."
That was three months ago, and Trump still hasn't got that "sealed indictment."
'Trump hasn't been US president since May'
Mensch has also claimed Trump's presidency actually ended on May 9, and was in the process of being replaced by Senator Orrin Hatch in a process kept secret from the American public.
"Steps are being taken by aspects of the Judicial Branch to preserve the constitutional Separation of Powers and these steps include ensuring a smooth transition of power," Mensch wrote in a rambling "exclusive" blog post, quoting "several sources familiar with the matter."
"In order that Senator Hatch, the fourth in line, be ready to assume the duties of the office he will shortly be undertaking, several separate sources with links to the matter, report that the Senator is receiving copies of security briefings he will need upon becoming President."
Putin ordered the assassination of Andrew Breitbart
Mensch has claimed she has evidence that the founder of Breitbart news, Andrew Breitbart, was murdered by Russian agents to pave the way for Steve Bannon to play a key role in the Trump administration. Breitbart died of heart failure in 2012.
In March, Mensch appeared on the BBC's Sunday Politics programme to discuss her claims. When asked by Andrew Neil what evidence she had to prove Trump's team was complicit with the Russians, Mensch appeared to come up short.
I absolutely believe that Andrew Breitbart was murdered by Putin, just as the founder of RT was murdered by Putin.

— Louise Mensch (@LouiseMensch) February 24, 2017
When asked what "evidence" she had, she said: "If I say I am reporting you may rest assured I have a basis of fact. A belief is a belief."
Neil asked if Mensch had become "delusional" after claiming she has become a "temporary super power."
She said: "No, I was describing a basis of ADHD which I have, as any of your viewers or doctors will know. It provides people with unfortunately a lot of scattered focus, a messy, very absent minded thinking. But when they are interested in something and have ADHD they have a condition called hyper-focus.
"Which means that you concentrate very hard on a given subject and you can see patterns and connections and that's biological and I don't resile from it for a moment."
'Putin controls my WiFi'
Mensch makes constant unsubstantiated claims on Twitter. She believes Russia is controlling public WiFi networks in her neighborhood, that former US politician Anthony Weiner's latest sexting scandal was a set-up by a Russian hacker, and that Putin had something to do with the March 22 terrorist attack in London.
She believes that misspelt hashtags on Twitter are Russian "active measures" and that the Kremlin funded riots in Ferguson. Mensch has said Bernie Sanders is a "Russia [sic] agent of influence."
My sources say the death penalty, for espionage, being considered for @StevenKBannon. I am pro-life and take no pleasure in reporting this.

— Louise Mensch (@LouiseMensch) July 19, 2017
She also claims that The Guardian's recent reporting exposing the 'Caitlin' hoax means the newspaper is a front for the Russian FSB.
Mensch has 267,000 followers on Twitter.
You can share this story on social media: