Queen will not stand aside to make way for 'unpopular' Prince Charles, insist royal insiders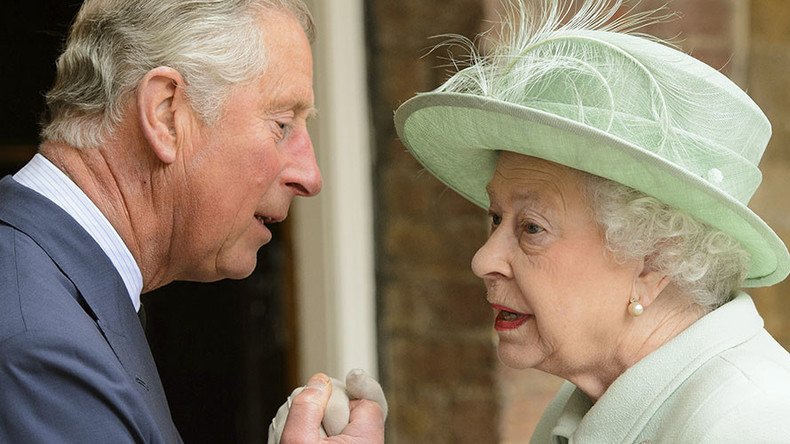 The Queen has no intention of handing the crown to her son Prince Charles, despite reports she plans effectively to cede power when she turns 95. Recent opinion polls indicate the heir to the throne is not popular with his subjects.
As the world's longest-serving monarch, the Queen has stuck to the pledge she made at her coronation at the age of 21 that she would be "devoted" to the royal family her "whole life."
However, it was rumored earlier this month she plans to allow the Prince of Wales to assume her duties after she turns 95. Charles would become king in all but name.
The handing over of powers would be carried out through the 1937 Regent Act, by which a regent is appointed to take over the monarch's duties "in the event of incapacity of the sovereign through illness, and for the performance of certain royal functions in the name and on behalf of the sovereign in certain other events."
However, according to three different sources cited by the Sunday Times, neither Buckingham Palace nor Clarence House is planning for regency. One source claimed the Queen responded to the rumor: "Duty first, nation first, I'm going to be there."
Brits may be thankful for Her Majesty staying power, as a new YouGov poll reveals Prince Charles' popularity has plunged to new lows.
Just 36 percent of the population believes Charles would make a positive contribution to the monarchy. His wife Camilla also performed poorly, with a popularity rating of just 18 percent.
By contrast, Charles' son Prince William had an approval rating of 78 percent, followed by his younger brother Harry on 77 percent.
Daily Mail royal commentator Penny Junor said the Prince of Wales' unpopularity is largely due to the ongoing public resentment lingering from his botched marriage to Princess Diana.
"He gets a hard time because his marriage failed," she said.
"He's never been forgiven for that – because Diana blamed him and he never ever said a word.
"He's never explained what went on in his marriage."
Anti-monarchy campaign group Republic warned last month that the future of British royalty is under threat because of the worrying prospect of Charles as king.
"The Queen's long reign has papered over the major fault line in the monarchy: it cannot respect the will of the people," the group stated on its website.
"When the Queen dies the people will not simply accept being told their next head of state is King Charles."
The group called for an elected head of state.
"This will be a crisis of legitimacy that will be matched by a vocal opposition and a major public debate – and the big question on everyone's lips will be: 'Why can't we decide who gets the job?'
You can share this story on social media: