RT UK's search for next generation of British satirical talent reaches Brighton (VIDEO)
Published time: 18 Aug, 2017 15:40
Edited time: 19 Aug, 2017 13:59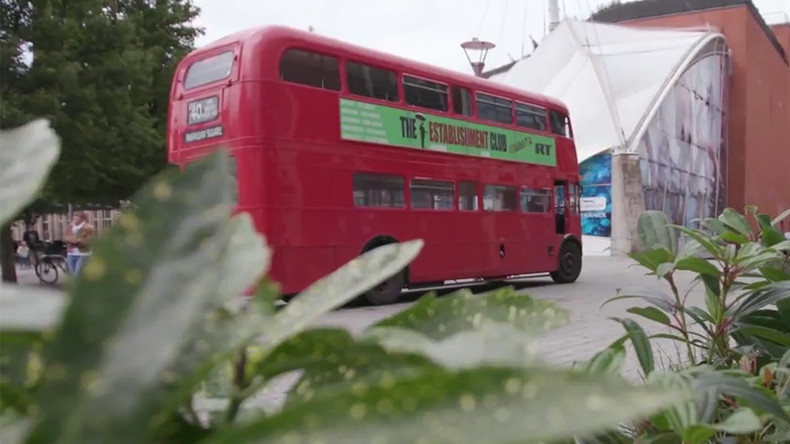 The Establishment Club bus stopped off in Brighton this week, as part of its ongoing search to find the best satirical talent for a new RT UK show which aims to hold the rich and powerful to account.
We heard from comedians, poets and songwriters. One performer played his ditty 'I fell in love with a Tory, it's really making me sick,' while another shared his poem on the Queen preaching to cut public services while wearing a million-pound hat.
RT's revamped version of The Establishment Club, originally formed in the 1960s by comedy icon Peter Cook, seeks to "respond to the extraordinary amount of censorship" taking over the country.
The idea is to showcase talent from across the nation. In order to find unique talent, the new Establishment Club team are taking a double-decker bus up and down the country in search of those who have a "voice, are angry and passionate."
The show will be fronted by famous MC Keith Allen, who is calling on all artists to use their talent to vent their frustration with the government and join the show.
The judges will then choose the top five performers to take part in its new satire TV show to be broadcast every week.
Further auditions will be held in Edinburgh, Manchester and Newcastle over the next few weeks.
If you are unable to make it to any of the venues, you can still upload your video to the website, as long as it's no longer than four minutes!